10 February 2016, Lagos – Experts, who gathered at a forum organized by the Nigerian Association of Petroleum Explorationists (NAPE), have emphasised the need for the Federal Government to provide a conducisive environment to enable oil companies cope with the challenges of declining crude oil prices.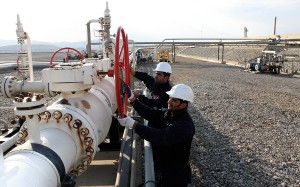 Specifically, they believed that the industry needs proper funding, therefore the need to provide a bailout loans to oil and gas firms in the country.
Delivering a paper titled: "Current Realities in The Upstream Sector of the Nigerian Oil and Gas Industry", at NAPE's monthly meeting , the Chief Executive Officer of Degeconek Nigeria Limited, Abiodun Adesanya, said that beside the falling global oil price trend, Nigeria is also having other challenges such as funding challenges; renewed insecurity in the Niger Delta; low Reserve Replacement Ratio (RRR); poor gas development and high and uncompetitive production cost.
According to him, Nigeria's current national crude oil reserve is down to 28 billion with a budget deficit at a crude oil benchmark of $38 a barrel in 2016 budget.
Adesanya insisted that the falling oil price has an instant, direct and major impact on Nigeria economy, saying that about 120,000 direct and indirect job has been lost in the country.
He stated: "There has been a shortfall in NNPC Joint Venture cash calls. The shortfall has led to about 53 per cent drop in NNPC cash calls payment to JV operations from 2005 to 2015. This has led to a 62 per cent drop in JV production that is masked by Production Sharing Contract production. It has also played a part in the decline of crude oil production from 2.3 million barrels per day to 2.1 million barrels per day in over the same period".
He also stressed the need for the government to address the issues of insurgency and security threats in the country as well as pipeline vandalism, illegal oil bunkering; kidnaping and hostage taking and proliferation of illegal refineries.
Speaking on the need for a bail out fund for oil companies, Vice President at First City Monument Bank Plc, Ronke Jibodu, maintained that the crude price had fallen below the $45 per barrel projection by most of the lenders. "What we set as worse target for oil (projection) is $45, but today it's $35 per barrel. This is a big challenge for the banking industry," she said.
This has led to a major issue facing banks. For instance, she said the bank had $1.2 billion refund this year. "And how the money could be refunded by oil firms that are also facing big task to survive the low price is a big issue," she declared.
"The financial institutions are being faced with 'if what do we do scenario?' The unstable, the uncertainty in the oil sector. "What I told my colleagues is that maybe we could get bailout fund. We need to fund new projects without being saddled. We still have a need of $20 to $30 million for new project financing," she stressed.
According her, the "biggest issue we have today is the fall in oil price. However, the oil sector still remains a sector where the banks still want to play."