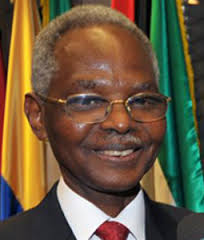 23 July 2014, Lagos – Nigerians from different walks of life, especially in the petroleum industry, have expressed shock over the demise of the former Minister of Petroleum Resources, Dr. Rilwanu Lukman.
Lukman passed away at the age of 75 in the early hours of Monday, July 21, 2014 at his residence in Vienna, Austria after a brief illness.
A former Group Managing Director, Nigerian National Petroleum Corporation, Mr. Chamberlain Oyibo, told our correspondent in a telephone interview that the news of the death of Lukman came to him as a shock.
Although he admitted that there was a rumour that the former minister was ill, Oyibo said the story of his death was not expected.
He described Lukman as a core professional, who had acted in various governments as a minister and adviser in charge of solid minerals and petroleum resource.
Oyibo said, "It came as a shock to me when we heard that he had passed on. Lukman was a core professional. He is a very consummate engineer familiar with solid minerals and petroleum sectors.
"As a former colleague, I must say the country will miss him a lot. All we have to do is pray that his gentle soul rest in peace."
Reminiscing on some of the moments he shared with Lukman, Oyibo added, "Before he came into the oil sector, we used to meet at his office in Jos for meetings bordering on solid minerals.
"Lukman was a gentleman and very orderly in his behaviour."
The Chairman, Stanbic IBTC Bank Plc, Mr. Atedo Peterside, also described the late Lukman as a seasoned professional and technocrat.
According to Peterside, the former minister dedicated his life to fighting causes and reforms, which he believed in, and was never afraid of controversy.
He said, "The late Rilwanu Lukman was a seasoned professional and technocrat. He dedicated his life to fighting causes and reforms, which he believed in. He was never afraid of controversy and I often wondered why his genuine intentions were misunderstood so frequently.
"He contributed his quota and will be remembered for his intellect and steadfastness in the face of adversity."
The immediate past President, Petroleum and Natural Gas Senior Staff Association of Nigeria, Mr. Babatunde Ogun, also described the death of Lukman as a huge loss to the nation.
Having participated actively in the activities of the Organisation of Petroleum Exporting Countries as well as in the Nigerian petroleum industry, Ogun said the loss of Lukman was a loss to the global oil market.
The former PENGASSAN boss noted that Lukman was one of the proponents of the Petroleum Industry Bill, which is still in the National Assembly awaiting passage into law.
Ogun said, "It is indeed a colossal loss to the nation. Having been in the OPEC, he was an embodiment of knowledge as far as oil and gas is concerned. We will also be losing so much because the passage of the PIB has continued to see endless postponements and one of the proponents of this bill is Lukman.
"Now, he is gone and the country has yet to pass the PIB into law. Nigeria as a country should learn to act right, especially on critical legislation like the PIB, which received quality contributions from people like Lukman."
Born on August 26, 1938 in Zaria, Kaduna State, Lukman and left behind a wife and three children.
He attended the Nigerian College of Arts, Science and Technology Zaria from 1956 to 1958 and later proceeded to the prestigious Imperial College London, where he obtained a Bachelor of Science degree in Mining Engineering in 1962.
– The Punch