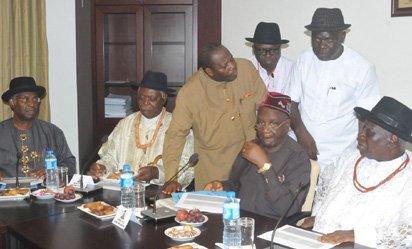 Mkpoikana Udoma
*Former Minister for Labour, Chief Graham Douglas; Co-Chairman PANDEF, King Diette Spiff; Former Permanent Secretary Ministry of Power, Amb. Godknows Igali; Co-Chairman PANDEF, Obong Victor Attah; Former MD NDDC, Mr. Timi Alaibe; Coordinating Secretary PANDEF, Dr. Alfred Mulade and the Coordinator PANDEF, Chie Edwin Clarke and Ag. President Yemi Osinbajo during a meeting at the State House, Abuja. Photo by Abayomi Adeshida.
02 December 2017, Sweetcrude, Port Harcourt — The Pan Niger Delta Leaders Forum, PANDLEAF, has called on the Federal Government to urgently release statutory funds meant for the rehabilitation of ex-agitators in the region to the Amnesty Office.
Speaking to newsmen, the President of PANDLEAF, Mr. Famous Daunemigha, said the failure of the federal government to pay the outstanding allowances of the ex-agitators was an invitation to another round of chaos in the region.
PANDLEAF which is the youth wing of Pan Niger Delta Elders Forum, PANDEF, explained that the failure of the ex-agitators to receive their allowances was not a fault of the amnesty office but the federal government which refused to release funds meant for the amnesty office.
Daunemigha wondered why the Amnesty Office would be denied its yearly allocation, whereas other agencies of the government were getting theirs.
"As a stakeholder in the region and as a person who has over the years been involved with the youths, we call on the federal government to be responsible to its citizens by ensuring that all outstanding payments to the amnesty office should be released before the accounting year gets to an end.
"All funds that should be for the Amnesty office in 2017 should be duly paid so that no ex-agitators allowances should be held because the amnesty office is saying there is no fund.
"Every ministry, department, and agencies get their allocation, we see no reason why the amnesty funds which is backed by law should not get their own allocation.
"They should pay so that the manager of the programme would be able to do his work by paying ex-agitators their outstanding allowances and also pay contractors who are involved in the training of these boys.
"Because any attempt not to release funds would be a deliberate invitation to chaos in the region, considering the volatile situation in the area.
"Failure of the amnesty office to pay ex-agitators their allowances is not caused by the manager of the amnesty office but by the government which has failed to release the funds.
"The federal government is deliberately trying to find a fault in the region by not paying their allowances."