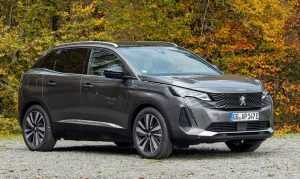 Paris — Stellantis' Peugeot has unveiled its new 3008, which is now a fully-electric coupe SUV – or "fastback" – in the hope of extending the success of one of the brand's best-selling fossil-fuel models.
The car will be manufactured in Sochaux (Doubs), where it was presented on Tuesday for the first time in public, and will go on sale in February 2024.
It will face the daunting task of succeeding the current 3008, which has sold more than 1.3 million units in 130 countries over seven years, with an aggressive and compact silhouette popular with motorists.
But the aerodynamics of the new electric model are instead shaped to maximize its battery range.
"The launch of the Next-Level E-3008 is a major step in Peugeot's radical transformation into an alluring 100% electric brand," Peugeot brand general manager Linda Jackson said in a statement.
The new 3008 is built on the STLA Medium electric platform, which will be used for future compact models at several of Stellantis' 14 brands.
Although the platform is designed for fully-electric models, it can also be used for hybrids.
The new 3008 come in three electric versions with a range of up to 700 km (435 miles) with a 98 kilowatt hour (kWh) battery, as well as two hybrid models depending on the market. The current generation is available in a petrol version, a diesel model and three hybrids.
Initially, the 3008's battery will be supplied by FinDreams, a unit of China's BYD, until a gigafactory run by ACC – owned by Stellantis, TotalEnergies and Mercedes – goes into production, a Peugeot spokesperson told Reuters.
As part of its "Dare Forward 2030" plan, Stellantis wants its European sales to be 100% electric.
The Peugeot brand aims to be Europe's top EV seller by 2025.
In line with a cost-reduction plan launched almost 10 years ago by CEO Carlos Tavares, the Peugeot 3008 will only be available in two different trims, dropping the third entry level trim from the current generation.
(Writing by Nick Carey; reporting by Gilles Guillaume; editing by David Evans) – Reuters