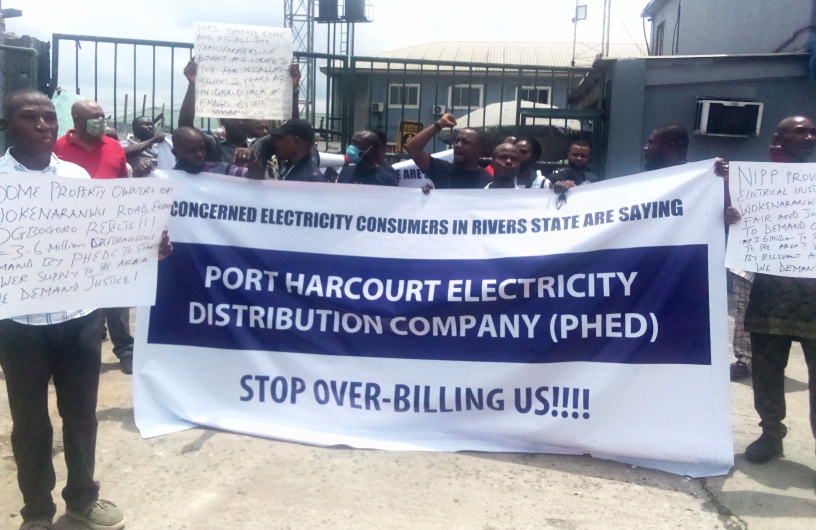 Mkpoikana Udoma
Port Harcourt — Residents of Mile II, Diobu in Port Harcourt on Monday barricaded the head office of the Port Harcourt Electricity Distribution Company, PHED, in protest against overbilling and poor power supply in the area.
The protesters, numbering over hundred from various streets in Mile II namely Akokwa, Nanka, Udi, Emenike etc, marched from Diobu to Moscow Road ringing bells, singing and with placards bearing different inscriptions such as, "PHED give us light" PHED stopover billing us" among others.
Speaking, leader of the protest, Mr Wisdom Akpan, said Mile II do not have up to three hours of power supply per day, but they were being given N50,000 and N100,000 bills at the end of the month.
Akpan said they decided to protest to the head office of PHED, after several efforts to get the Disco's office in Silverbird-Diobu, to resolve the issues proved abortive.
"We are all residents of Diobu. We get power supply from Nsukka and Udi feeders in Diobu. We have been suffering and they (PHED) told us we don't have meter, we have meters, but they said our meters are isolated as they havr stayed over 50years.
"But the one that is paining us is that the feeder manager told us that we are entitled to minimum of eight hours and maximum of 12 hours, but we do not even see up to three hours a day. But they will bring bills of N100,000 every month.
"So, we decided to embark on this peaceful protest to dialogue with them. How does PHED measure our billing system that we are being billed up to N100,000 per month without power supply."
Selected leaders of the protest who later met with the management of PHED in a closed-door meeting, said the Managing Director of PHED has assured them of increased power supply should they effectively pay their March electricity bills.
"From the meeting, we have been made to understand that some PHED workers have been defrauding ud by not giving us adequate information.
"We have learnt that there is a code for every PHED staff. So, any PHED who comes to us for anything we should demand from them their PHED staff code to be sure they are staff of the company.
"The M.D. of PHEDC has assured us that if we pay March bills effectively, he will ensure we are moved into band B, which means that we will have minimum of 12hours and maximum of 16 hours per day."
Follow us on twitter