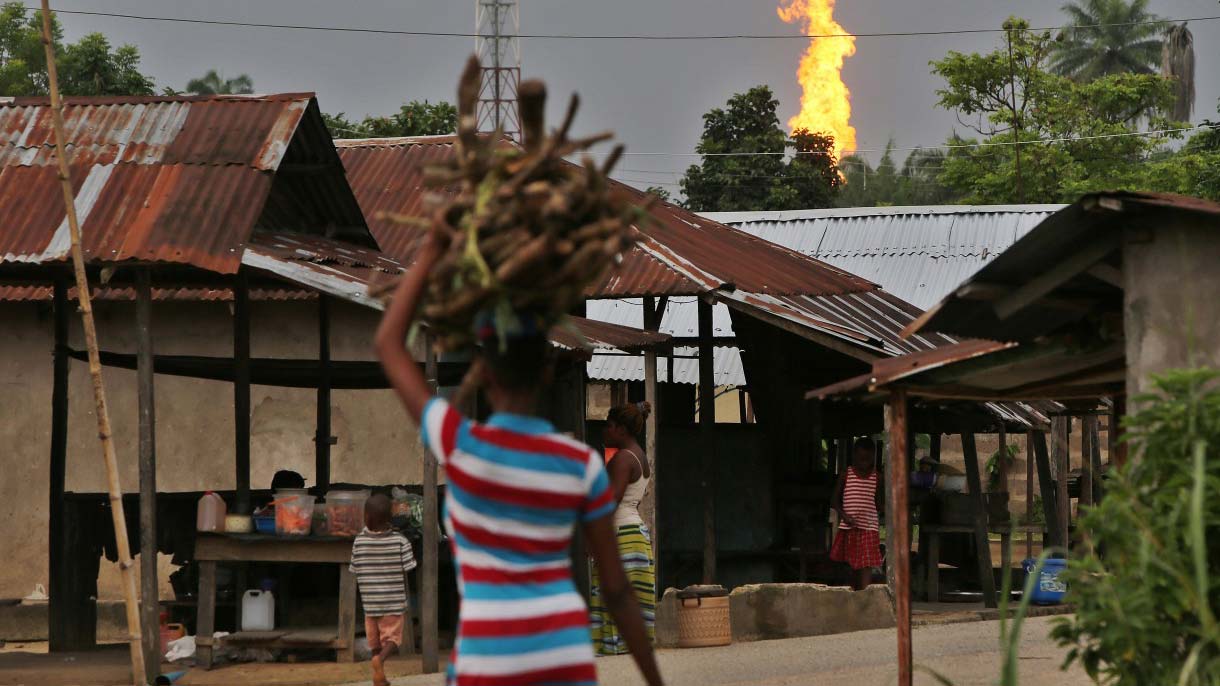 Mkpoikana Udoma
Port Harcourt — A coalition of Ijaw groups have urged state governors in the South South geopolitical zone, to prevailed on President Muhammadu Buhari, to expedite action towards ending gas flaring and clean up oil pollution in the region.
The coalition also called for an urgent amendment of the Petroleum Industry Act, to increase the provision for host communities from 3percen of operating expense to 10 percent, as well as redefinition of host community to include impacted communities.
A letter addressed to Edo State Governor, Mr Godwin Obaseki; Delta, Dr Ifeanyi Okowa; Rivers, Mr Nyesom Wike; Bayelsa, Sen Douye Diri; Akwa Ibom, Mr Udom Emmanuel and Cross River, Dr Ben Ayade, urged the governors to demand for a healthy environment for the people.
The letter was jointly signed by notable Ijaw leaders including, Chief Bukazi Etete, Chairman, Ijaw Elders Forum; Maj.-Gen. Paul Toun (rtd.), Chairman, Ijaw Professionals Association; Mr Ben Okoro, Ijaw Nation Forum; Chief Amagbe Kentebe of Embasara Foundation and Ms. Annkio Briggs of Ijaw Women Connect.
The groups noted that the PIA which was recently signed into law by the President, had some contentious areas that need to be addressed urgently.
The also called for an amendment to the PIA to put an end to gas flaring and prescribe stiff and cascaded penalties for non-compliance with the timelines.
They, therefore asked the governors to institute a legal action against some clauses in the PIA and also convene a special stakeholders hearing on the Act In the region.
"The governors need to mobilise a broad legislative understanding and action at the National Assembly to correct the anomalies.
"They are to request from the president a commitment at the forthcoming UN Climate Change Conference of Parties (COP 26 Glasgow Oct. 30 to Nov. 12 to promptly commence a Niger Delta wide clean up of the worst petroleum pollution footprint on the planet.
"The government should fix a date to end gas flaring that is perennially choking our communities with acid rain.
"This is in line with the global push for climate action and the UN's declaration of 2021 2030 as the Decade for Ecosystem Restoration.
"We also urged the federal government to incorporate a fund to remediate existing orphaned legacy polluted sites."
The groups said communities should be relieved of the responsibility to protect oll and gas pipelines and infrastructure and should not be penalised in the event of damage.
They also asked the government to redefine host communities as oil bearing communities and immediate neighbouring areas impacted by oil and gas production operations.