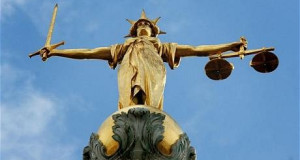 16 April 2014, Lagos – Hearing in a case of alleged petroleum pipeline vandalism, brought before a Federal High Court sitting in Lagos, failed to hold on Tuesday, due to the absence of the  accused.
The accused, Bambo Orisabinone, 39; Victor Sofia, 29; Seggy Jones, 27, and Oluwasegun Okimiji, 25, are standing trial on a four-count charge.
The charge against them border on conspiracy, pipeline vandalism, stealing and unlawful tampering of petroleum products.
The counsel to the accused, Mr John Owoyemi, told the court that one of the accused, Seggy Jones, could not attend the court proceedings because of ill-health.
He assured the court that Jones would attend all court's proceedings immediately he got better.
Owoyemi, therefore, asked the court to adjourn the case.
The prosecutor, Mr Justin Enang, confirmed to the court that he was aware that the accused was sick.
Justice Saliu Saidu, therefore, adjourned the case till June 25, for hearing.
The prosecutor had earlier told the court that the accused committed the offence on Aug. 31, 2013, at Makoko Area of Lagos.
He said that the four accused unlawfully damaged a petroleum pipeline and siphoned 13,000 litres of petroleum products worth N1.3 million.
The prosecutor said that the petroleum products siphoned belonged to the Nigerian National Petroluem Corporation (NNPC).
Enang said that the offence contravened relevant sections of the Miscellaneous Offences Act and the Criminal Code, Laws of the Federation, 2004.
The News Agency of Nigeria (NAN) recalls that the accused were first arraigned on Jan. 29, when they pleaded not guilty to the charges preferred against them by the prosecution.
– NAN