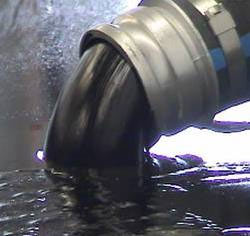 *Platts suite of West African crude oil assessment now covers 17 grades
04 August 2013, Sweetcrude, PRNewswire, LONDON — Platts, a leading global energy, petrochemicals and metals information provider and top source of benchmark price references, has begun publishing daily price assessments for five West African grades of crude oil. The new price assessments, launched on August 1, provide end-of-day values on the open spot market for two Nigerian grades, two Angolan grades and one grade of crude oil produced in the Republic of Congo. With the launch of these new assessments, Platts now publishes a total of 17 daily price assessments for crude oil produced in western Africa.
"These new assessments mark a major expansion of Platts' coverage of the West African crude oil market and bring a new level of transparency to this burgeoning supply source," said Andrew Bonnington, editorial director, European & African oil, Platts.
The Nigerian assessments are for two sweet crudes – Akpo and Bonga. Akpo is a light, sweet crude similar in specification to Nigeria's Agbami. It is produced at a rate of approximately 160,000 barrels per day (b/d) from a floating production, storage and offloading (FPSO) unit offshore Nigeria operated by Total. Bonga is a medium, sweet crude, with a similar daily volume to Akpo, but produced by a Shell-operated offshore FPSO.
Angola's Pazflor and Plutonio crude oils are now also being assessed by Platts on a daily basis. Pazflor is a heavy, sweet crude with a current production rate of around 200,000 b/d. Its FPSO, which is operated by Total, is located offshore Angola and is fed by one of the larger fields in Angola. Plutonio is a medium, sweet crude with a daily production volume similar to that of Pazflor. Its FPSO is operated by BP and also located offshore Angola.
Platts' fifth new assessment provides a daily value for Djeno crude oil produced in the Republic of Congo. Djeno is a heavy-sweet crude produced onshore at the rate of 160,000 b/d. Operated by Total, the Djeno terminal can accommodate very large crude carrier vessels.
The August 1 prices of the new five West African crude oil grades are as follows:
| | | |
| --- | --- | --- |
| Crude Oil Grade | Outright Price ($/b) | Price Differential* ($/b) |
| Akpo | 109.42-109.45   | 0.64/0.66       |
| Bonga | 111.87-111.90   | 3.09/3.11       |
| Pazflor | 107.85-107.89   | -1.01/-0.99     |
| Plutonio | 108.60-108.64   | -0.26/-0.24     |
| Djeno | 106.17-106.20   | -2.61/-2.59     |
*The new Nigerian and Congolese grades are priced as a differential to Platts West African Dated Brent Strip, and the new Angolan crudes are priced as a differential to Platts Angolan Dated Brent Strip.
Platts' previous West African price assessments provide values for six Nigerian crudes – Agbami, Bonny Light, Brass River, Escravos, Forcados and Quao Iboe – and six Angolan grades: Cabinda, Nemba, Dalia, Girassol, Hungo, Kissanje.
Platts crude oil price assessments are all developed using its Market-on-Close (MOC) methodology, a highly-structured, transparent price assessment process based on the principle that price is a function of time. The MOC process in oil identifies bid, offer and transaction data by company of origin and results in a time-sensitive, end-of-trading-day daily price assessment. For more information on the methodology and quality-control guidelines, visit the methodology and specifications page of the Platts website.
The assessments are published in numerous Platts publications including Platts Global Alert, a real-time news service; Platts Market Data – Oil, a data delivery service; and the publications Platts Crude Oil Marketwire and Platts Oilgram Price Report. For more information on crude oil, visit the Platts website at www.platts.com.
About Platts : Founded in 1909, Platts is a leading global provider of energy, petrochemicals, metals and agriculture information and a premier source of benchmark prices for the physical and futures markets.  Platts' news, pricing, analytics, commentary and conferences help customers make better-informed trading and business decisions and help the markets operate with greater transparency and efficiency.