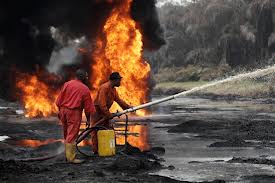 25 January 2013, Sweetcrude, Lagos –  The Police on Thursday arrested four suspected vandals in Arepo estate of Ogun in connection with the NNPC pipeline explosion on Wednesday.
The arrest was made by operatives of the Inspector-General of Police Special Task Force on Anti-Pipeline Vandalism Unit.
The Assistant Commissioner of Police in charge of the task force, Mr Friday Ibadin, disclosed this in Lagos.
Ibadin said the explosion started at about 4.30 a.m., stressing that the suspects were arrested while returning from the creek.
"Shortly after the explosion, policemen, led by Sector Commander, Lagos, DSP Onaghise Osayande, cordoned off the area, while they awaited the arrival of fire fighters.
"They extended the search to Konu and Majidun area which is another route to that spot. Some vandals were spotted and ambushed, while others who were coming behind fled.
"Investigation so far shows that the suspects, and others now at large, wanted to waste the effort of the NNPC and frustrate the effort of police."
"One of the suspects confessed that they simply obeyed the orders of one of their leaders.
"He claimed they learnt that NNPC was mounting a platform close to the creeks and that would be bad business for them.
"It was agreed that they should try and stop them pending when they would have enough supply that they can manage before another spot is discovered.
"On Jan. 22, they sneaked in through the river at about 12 a.m. and fetched few gallons of PMS and while they were leaving, one of the suspects lit a cigarette and threw it at the ruptured part and the fire started again.
"The fire has been extinguished and NNPC would soon commence flow of PMS through the line ,'' Ibadin noted.
On Jan. 13, fire, caused by suspected vandals, killed more than 30 persons, who had ferried across to the creeks to scoop fuel from a ruptured pipeline.
The explosion on Wednesday at the Arepo axis was the second in two weeks. (NAN)