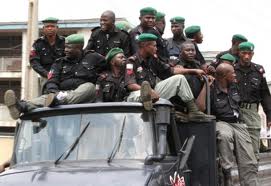 20 June 2013, Lagos – The police have beefed up security around strategic places in Lagos, especially fuel tanker terminals, tank farms and other establishments associated with the petroleum industry to forestall any terrorist attack.
The Lagos State Commissioner of Police, Mr. Umar Manko, Wednesday said the police were prepared to ensure that the Movement for the Emancipation of the Niger Delta, MEND, did not have any chance to carry out its threat to attack petroleum trucks and tank farms in the state.
He reiterated the command's commitment to foil any attempt by terrorists to infiltrate the state, saying adequate security had been put in place across the state to ward off any attack.
MEND had recently declared that henceforth, it would attack every oil tanker distributing petroleum products, including propane gas to press home its demands, which include that the federal government should secure the release of its leader, Henry Okah, who is serving a jail term in South Africa for the 2010 independence day bomb blasts.
Although he said the police would not disclosed their strategy on how to tackle such security threats of this nature, Manko stressed that the command was on top of the situation and was capable of ensuring the safety of lives and property in the state.
He said: "Security has been beefed up by the command to ensure that all tanker terminals, tank farms and other establishments associated to petroleum industry are guarded by heavily armed men.
"Meanwhile, the command would continue to use a lot intelligence to overcome the situation. In other words, we would continue to work on intelligence report to avoid any unforeseen eventuality."
He called on truck drivers to be vigilant and alert security agencies of any strange behaviour exhibited by either their colleagues or strangers in their environment.
"I urge those who drive their trucks to always be on the alert. They should also report to the nearest security agency any driver who is not a member of their association who comes into their tanker park with a car or truck to park in the terminal," he said.
"Besides, the tanker drivers are also advised to avoid parking in an unsecured place, especially when they were carrying petroleum products as they might give room for the sect to take advantage of the situation," Manko added.
– This Day