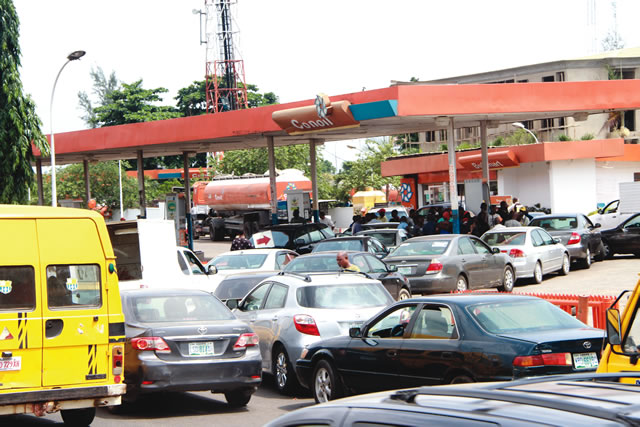 *Fuel scarcity persists 7 years after   *Subsidy gulps over N2.56trn   *42m litres of products smuggled daily
Chuks Isiwu
Lagos – Nigeria is once again caught up in the vice grip of a crippling fuel scarcity in the run up to the Christmas and New Year season owing to the inability of the President Muhammadu Buhari administration to manage the country's fuel supply and distribution effectively.
Worst still, even though Mr. President had run a campaign seven and half years ago labeling fuel subsidy regime of the government at the time as a monumental fraud, promising to revamp the refineries and do away with subsidy, fuel subsidy has quadrupled under his watch, calling to question his credibility.
Every Christmas and New Year season in Nigeria in the last two decades has been, more or less, the same as far as fuel supply and distribution is concerned. It is as if those in authority deliberately contrive to punish the people every Yuletide. 
Fuel scarcity here 7 years after
As the nation gears up for this year's Christmas and New Year celebrations, fuel stations across many cities in the country are dry, without a drop of petroleum products. Long queues are a common sight in the stations and agony has become the lot of motorists and other fuel consumers. The fate of those planning to embark on long journeys this season can only be imagined.
Amid the crisis, the fuel black market is thriving in a country that is a leading crude oil producer and exporter. And this is to the extent that black market operators are displaying and selling the fuel right in the vicinity of officially licenced fuel stations.
It didn't come as a surprise when the Independent Petroleum Marketers Association of Nigeria, IPMAN, recently disclosed that "no single Nigerian National Petroleum Corporation (NNPC) depot has fuel". This happened on December 4, 2022.
"Be informed that this crisis (fuel scarcity) was not caused by the Independent Petroleum Marketers Association of Nigeria (IPMAN), but rather, the Federal Government and the Nigeria National Petroleum Corporation (NNPC), who have failed to make the product available for our members at affordable prices.
"As we speak, PMS (petrol) is not available in any of the NNPC's depots across the country.
"The few litres being sold to members of the public by our members were secured from management of private depots in Lagos, who would sell the product to us at an exorbitant price of between N215 and N220 per litre," a statement by the Ogun State Chapter of IPMAN, signed by the chairman, Otunba Femi Adelaja, read.
The statement added: "Prior to now, IPMAN members do get our supplies from the NNPC depots at N148.17k, but since it's not available in these (NNPC) depots, the private depot owners in Lagos now sell to us at a price of N215.30k, excluding the cost of transportation and other handling and overhead costs.
"So, by the time we add other over-head cost to the price of purchase, it brings the landing cost of fuel to between N245 and N250 per litre, excluding transportation,
"This implied that for us to dispense the product, which we got from a third-hand to members of the public and also meet up with the other overhead costs, including running of the filling stations on generator and payment of staff, we have to sell at the price of N270 per litre which we are selling currently in Ogun State."
In the run up to the 2015 presidential elections, Mr Buhari made several campaign promises around fuel supply and distribution and the expectation was that on assumption of office fuel would be readily available for the citizenry but this has not been the case.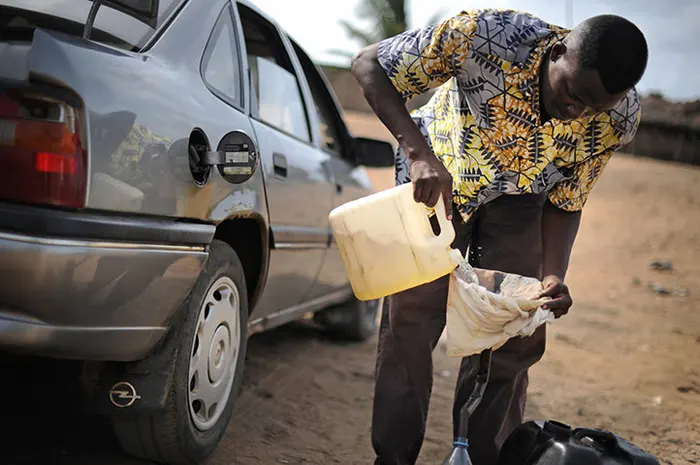 Prior to assuming office, the president and his party told the nation that fuel subsidy was a scam, a fraud scheme through which the nation was enriching a privileged few, and which should be scrapped. Since taking over office in 2015, the government has failed to do away with subsidy. Is this government using the fuel subsidy regime to enrich a privileged few?
After initially announcing that the fuel subsidy regime would come to an end in February this year, the government reneged, pushing the date for the scrapping of the regime to June 2023, and leaving the decision on whether subsidy would be scrapped or not for the government expected to come into office in May next year. Is that not dubious?
The government's failure in ensuring enough fuel supply for the consumers is only one of the several failings of an administration that is quick to apportion the blame elsewhere, including pointing to a government that left office nearly eight years ago.
This government had, prior to entering office, promised so much but succeeded in doing less. It promised to fix the nation's economy, but the economy is far worse than it met it. It promised to fight corruption, but corruption is not yet a thing of the past as far as Nigeria is concerned. The government promised to cripple terrorism and secure the nation but the government's performance in this regard is way off from its promise. The country is in the grip of terrorists, bandits, criminal herders, unknown gunmen, kidnappers, and other lawless elements. 
Ballooning subsidy costs
Under this same government, subsidy has become a monster eating up a very large chunk of the national budget. As of August this year, the cost of fuel subsidy rose to N525.714 billion ($1.22 billion), bringing the total spend this year, as at then, to N2.568 trillion, according to figures submitted to the government by the NNPC.
The World Bank estimates that foregone oil revenues in Nigeria would total N5 trillion ($12.04 billion) this year due to fuel subsidy, equivalent to 30% of Nigeria's entire budget.
Experts say that due to the huge amount of the national revenue being expended on fuel subsidy by the Buhari government, the nation has been losing revenue from an oil price bonanza that is helping the economy of other oil exporting countries through the current hard time.
Crude oil prices have averaged $94 a barrel so far this year, a rise of 42% from last year, while Nigeria's budget benchmark crude oil price is $62 per barrel for the year.
Indeed, a Reuters report indicates that Nigeria has failed to capitalise on an oil price boom that has helped cushion other exporters from the impact of inflation, with millions more Nigerians currently facing poverty.
Finance Minister Zainab Ahmed has repeatedly warned about the high cost of petrol subsidy despite the government she serves not mustering the will to deal with it. According to Ahmed, the subsidy bill could reach $16.2 billion in 2023.
In 2020, NNPC retained 4% of oil and gas sales to cover petrol subsidy. This rose to 45% last year and in 2022 it has reached 83% of crude oil sales.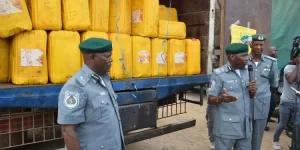 Under the Buhari government, it is not certain how much fuel the nation is consuming. A controversy spun by accusations and counter-accusations between the NNPC and the Nigeria Customs Service, NCS, earlier this year laid bare the inability of the government to establish the volume of fuel being consumed by the country as it also exposed the inability of the government to ensure adequate policing of the nation's borders.
NNPC claims that the nation consumes 60 million litres of petrol daily, but allegedly lifts 98 million litres into the market. It blames smuggling of products to neighbouring countries for the high consumption rate.
But reacting to the NNPC's touted figures on consumption level and the smuggling claims, Hammed Ali, Comptroller-General, Nigeria Customs Service, said: "The issue is not about the smuggling of petroleum products. I have always argued this with the NNPC. If we are consuming 60 million litres of PMS (petrol) per day by their own computation, why would you allow the release of 98 million litres per day? If you know this is our consumption, why would you allow that release?
"Scientifically, you cannot tell me that if I fill my tank today, tomorrow, I will fill the same tank with the same quantity of fuel.
"If I am operating a fuel station today and I go to Minna depot, lift petrol and take it to Kaduna, I may get to Kaduna in the evening and offload that fuel. There is no way I would have sold off that petrol immediately to warrant another load.
"So, how did you get to 60 million litres per day? That is my question. The issue of smuggling, if you release 98 million litres in actual and 60 million litres are used, the balance should be 38 million litres. How many trucks will carry 38 million litres every day? Which road are they following and where are they carrying this thing to?"
Surprisingly, following this controversy, it is still not known how much volume of products the nation is currently consuming.
But smuggling of products across the borders continues, fuelled by the Nigerian government subsidy regime, which creates a disparity between the price at the pump in Nigeria and what people pay to fill their tanks in neighbouring countries.
Does smuggling really exist? A Beninois economist says "yes". "Hundreds of thousands of people (in Benin) organise their survival around this traffic," Boris Houenou, a Beninois economist, quoted by Reuters, said of the smuggling of Nigerian petrol. "A litre of Nigerian petrol worth $0.45 (per litre) can be passed to Benin for $0.70," he added.
Estimates of the amount of petrol smuggled outside Nigeria vary, with some independent researchers putting it at around 15 million litres a day, while NNPC's own assessment is 42 million litres.
Nigeria to exit fuel imports next year – Minister
Meanwhile, Nigeria, despite being Africa's biggest oil and gas producer, continues to depend almost entirely on imports to cover its petrol needs. The four national refineries in Warri, Kaduna and Port Harcourt are still down while private plants licenced to complement them are still not operational or are not producing enough to make a meaningful impact.
Minister of State for Petroleum Resources, Timipre Sylva has expressed optimism that the country will end importation of petroleum products next year. According to him, the completion of rehabilitation work on the Port Harcourt Refinery will see the plant deliver 60,000 barrels per day of refined crude by the end of this month while the Dangote Refinery in Lagos is expected to come on stream by the first half of next year to boost local supply of products.
"We're expecting that we will actually be exiting the importation of petroleum products from maybe about third quarter next year if I was to give it a longer timeframe, but I believe that we would even before the third quarter next year," Sylva said.
With high global oil prices, Nigeria will do well to refine its own fuels, but the question is whether that could happen. Previous attempts by the government to revamp its refineries and put them back on stream had all failed.
Follow us on twitter