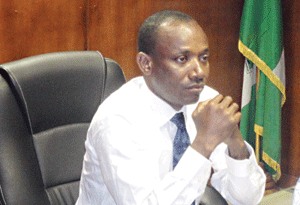 25 August 2013, Lagos – Nigerians have been asked to support the Nigerian Electricity Regulatory Commission, NERC, in its efforts to improve the power sector.
Speaking during a joint workshop organised by Journalists for Democratic Rights, JODER, and the Nigerian Human Rights Community, NHCR, in Lagos at the weekend, Dr. Sam Amadi, the Chairman of NERC, said the support of Nigerians and civil society organisations was crucial to helping the sector .
Amadi however stated that lack of investment in the sector by the Federal Government was the major reason the sector had not yielded the desired result. According to him, huge corruption also hindered the sector since 2000.
JODER condemned the way the sector had been left for long without being attended to.
The chairman of NERC assured Nigerians that the challenges faced by PHCN will soon be a thing of the past, as his commission had given licenses to companies that understand the major challenge facing Nigeria in the sector to generate power.
Also reacting to the increased service charge by PHCN from N500 to N750, he stated that what should bother Nigerians is effectiveness of the service not the charges.
His words: "Although the service charge ordinarily looks much, it is nothing compared to the N180,000 compulsory service charge industrialists pay monthly. What I think we should bother ourselves with now is how effective is the service going to be soon."
– Olayinka Ajayi, Vanguard