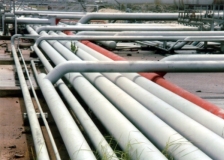 28 June 2013, Abuja – The Pipelines and Products Marketing Company, PPMC, a subsidiary of NNPC, says it has repaired and re-streamed the vandalised pipeline in Ilado community, Atlas Cove, Lagos.
Mr Nasir Imodagbe, Manager, Media Relations and External Affairs, made this known in an interview with the News Agency of Nigeria, NAN, in Abuja.
NAN recalls that vandals had on Wednesday ruptured the NNPC pipeline at the Akinbo Jetty at Atlas Cove and siphoned petroleum products.
Imodagbe, however, said the timely intervention of NNPC/PPMC engineers and security operatives had saved the day and repair work had begun immediately after the fire was put out.
"Repair-works commenced on the pipeline immediately the fire was put out. I can tell you that the pipeline has been repaired and re-streamed after it was temporarily shut down for repairs.
"Pipeline vandalism and oil theft account for loss of billions of dollars annually to the nation and the Federal Government has been exploring various ways to curtail the menace," he said.
He called on Lagos residents to avoid panic buying as the PPMC was working with all stakeholders to ensure uninterrupted fuel supply to Lagos and the entire country.
The PPMC spokesman called on host communities and other stakeholders to join the NNPC/PPMC to curb pipeline vandalism in the country.
He said the PPMC was already exploring the use of better technology and security arrangements to safeguard the pipelines.