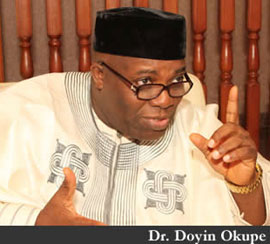 *Credits former governor with guarantying oil flows
15 March 2013, Sweetcrude, Abuja – Still smarting from the deluge of flak attracted by the state pardon granted Chief Diepreye Alamiesegha, former governor of Bayelsa State, the presidency has provided an explanation, crediting him with stabilising the amnersty programme and guarantying crude oil supplies.
Dr. Doyin Okupe, the senior special assistant to the President on Public Affairs who gave these explanations at a press conference noted that former Governor DSP Alamieyeseigha was removed from office in a manner that was suggested by many as not being entirely above board.
"Nevertheless, the former Bayelsa Governor whose pardon appears to be drawing all the flaks has been tried, found guilty and adequately punished.
He lost his position, forfeited the property illegally acquired and has demonstrated enough soberness after he served his sentence.
It is out of place to suggest that the pardon is tantamount to abandoning the fight against corruption in Nigeria.
This is too far from the truth. It was Lord Denning that perhaps put it more succinctly when he said "the purpose of punishment is not to destroy the offender but rather to reform him and deter others". These two features, I must emphasise, have been met in this instance.
But in truth Alamieyeisegha since he left prison has been working strenuously and silently to assist the President stabilize the amnesty in the Niger Delta Region. Alamieyeiseghais a foremost leader of the Ijaw Nation, and his political and stabilizing influence in that region have impacted positively on the overall economy of the nation, bringing crude oil exports from the abysmally low level of 700,00 bpd, to over 2.4 million bpd!
Therefore, it is obvious that, Alamieyeisegha has been a major player since his release from prison in ensuring that the blood that runs through the Nigerian economic artery is not cut off.
People have stated that President Jonathan said publicly that Alamieyeisegha was his political benefactor. This is a display of extreme humility and honesty on the part of Mr. President; in this day that virtually all political benefactors, usually turn into enemy number one and are therefore hounded to the ground by the incumbents.
In Nigerian history, great and eminent men who have been crucified for one crime or the other have been pardoned by past Presidents and such men have lived thereafter to further enhance our political and socio-economic development.
Amongst those are our respected departed sage, Chief Obafemi Awolowo and the revered Ikemba Nnewi, Chief Odumegwu Ojukwu who continued after their pardon to contribute immensely to Nigeria's social, political and economic growth till death."
Dr. Okupe noted that Nigerians owe a duty to nurture, protect and preservethe country, and ensure that after a hundred years of its existence, it is handed over to the next generation as one prosperous indivisible entity where justice, equity and peace reign.
"Many will not question the legality or lawfulness of the pardon granted by the National Council of Sate. Section 175 of the 1999 Constitution clearly empowers the President in consultation with the Council of State so to do.
The major concern of many patriotic and reasonable Nigerians is whether the decision is morally right or if it will not send wrong signals on Governments anti-corruption crusade.
These two considerations are my major objectives in addressing this conference and I once again wish to plead earnestly that our people should hear me out and allow us to reason together.
On the issue of morality, I want to state categorically here, that State or Presidential Pardon are not intended for nobility or saints. In general, a state pardon is for those who have committed crimes and breached the laws of the land and may or may not have been tried or convicted regardless of their social status.
A pardon is the forgiveness of a crime and the cancellation of the relevant penalty; it is usually granted by the head of state (such as a monarch or president) or by acts of parliament or a religious authority.
Today, pardons are granted in many countries when individuals have demonstrated that they have fulfilled their debt to society, or are otherwise considered to be deserving.
Also, a Prerogative of Mercy by definition is not a justifiable affair. It has to do with discretion and the necessity to redress bitterness and thereby offer healing and forgiveness especially in the presence of evidence of remorse and potential to add value to the country.
This is what made President George H.W Bush in 1992 to say "when earlier wars have ended, Presidents have always used their powers to pardon to put bitterness behind us, and look to the future.
This healing tradition reaches at least from President James Madison's pardon of La Titte's pirates after the war of 1812, to Andrew Johnson's pardon of soldiers who fought for the confederacy, to Harry Truman's and Jimmy Carter's pardons of those who violated the selective service laws in World War II and Vietnam".
The above tradition must have informed President Bill Clinton when he pardoned Fife Syminghton III, former Republican Governor of Arizona who was convicted of bank fraud.
President Bill Clinton similarly ignited a firestorm of controversy when he pardoned Marc Rich, who was charged, in 1983, with cheating the United States Government of nearly $50 Million US Dollars and doing business with Iran during the hostage crisis. Rich was never tried as he fled to Switzerland to avoid prosecution
President George H. W. Bush perplexed a majority of American Citizens when he pardoned six people from the administration of his immediate Republican predecessor Ronald Reagan in whose administration he was also the Vice – President.
The six Americans were under investigation for their involvement in the Iran – Contra Affair, which was a National Scandal, involving selling of arms to Iran and using the proceeds to fund Nicaragua counter – revolutionaries.
These are the bastions of leadership of the International Community which our enlightened citizenry are always too eager to use as bench-mark of good governance and democratic propriety. In all these, we must always remember that all Nations of the world have their own characteristics and will always do things that are socio-politically expedient at every point in time.
American history is replete with similar instances of pardons for reasons that may not appear altogether altruistic but which suited the socio-political situations of the country.
Bill Clinton issued a total of 456 pardons, of which one was his younger brother serving a one year jail term in connection with possession of cocaine. George Bush Snr,176, Jimmy Carter 566, Lydon Johnson 1,157 and F D Roosevelt 3,687!"
Dr. Okupe also said that in view of the obvious gaps in communication as shown in apparent misunderstanding of issues in the court of public opinion, his department will henceforth hold a bi monthly interactive forum with registered members of the Civil Society Organisations and other critical stakeholders in the society.
"This programme will be coordinated by the Special Asistant to the President on Public Relations ,Dr. Olusanya Awosan, and Alhaji Nasir Zaharadeen ,the Special Assistant to the President on Public Affairs who are both professionally and academically sound practitioners with many decades of experience in the Media and Public Relations industry."