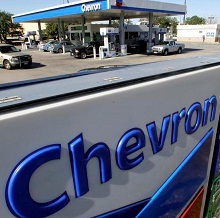 02 August 2013, News Wires – Chevron's second-quarter earnings were cut by 25% year on year as lower prices and production as well as higher operating costs dented the bottom line of the US giant.
The company reported quarterly earnings of $5.4 billion on Friday, compared with $7.2 billion a year earlier, as revenue dropped to $55 billion from $60 billion in the same period of 2012.
Chief executive John Watson blamed "softer market conditions" for crude and refined products, as well as repair and maintenance work at the company's US refineries.
Chevron's core upstream business was hit by reduced output of 2.58 million barrels of oil equivalent per day – about 40,000 boepd less than a year earlier – as project ramp-ups in the US and start-up of the Angola LNG project failed to offset normal field declines.
Higher operating costs also contributed to lower US upstream earnings of $1.08 billion, down $235 million over the year, and it was a similar story on the international side where earnings dropped $436 million to $3.87 billion.
Chevron also boosted capital expenditure in the first half to $18.3 billion from $14.2 billion a year earlier, of which upstream accounted for 92%.
– Upstream