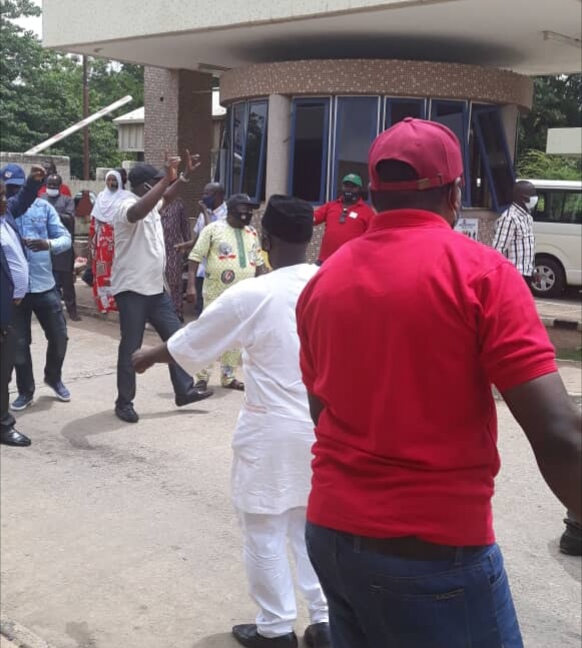 *Threatens to paralyze transmission operations nationwide
OpeOluwani Akintayo
Lagos — Protesters on Wednesday stormed Power House, Corporate Headquarters of the ministry of Power and the Transmission Company of Nigeria, TCN over removal of the former TCN Managing Director, Usman Gur Mohammed.
Mr Mohammed was sacked by the minister of power, Engr. Sale Mamman on Tuesday night.
Protesters under the aegis of the Senior Staff Association of Electricity and Allied Companies, SSAEAC and the Nigerian Union of Electricity Employees, NUEE at TCN branch, barricaded the entrance to the building, causing partial office activities as they accused the minister of high handedness and undue process in sacking Mr. Mohammed.
Some top officials who arrived early prior to the protest were locked inside the complex while others were not allowed entry, as the aggrieved workers demanded a reversal of the sack by the Minister.
They also threatened to paralyze transmission operations nationwide.
The Minister of Power, Engr. Sale Mamman, had Tuesday night through a statement, sacked Mohammed and replaced him by appointing Engr. Sule Ahmed Abdulaziz as the Acting Managing Director.
The statement entitled, "Reorganization /New Appointments at the Transmission Company of Nigeria (TCN)", reads: As part of continuing measures to reposition and improve the performance of the power Sector in the country, the Honorable Minister of Power Engr. Sale Mamman hereby announces major changes at the Transmission Company of Nigeria.
"Accordingly, the Managing Director of the TCN, Usman Gur Mohammed has been removed from office with immediate effect. He is being replaced with Engr. Sule Ahmed Abdulaziz, as Managing Director, in acting capacity.
The Minister has also confirmed the appointment of four directors who have been on acting position in the Company for some time.
They are; Engt. Victor G. Adewumi. Executive Director, Transmission Services Provider; Engr. M. J. Lawal, Executive Director, Independent Systems Operator; Ahmed lsa-Dutse, Executive Director, Finance & Accounts and justin l. Dodo, Executive Director, Human Resources & Corporate Services.
According to the minister, all the changes and appointments were approved by President Buhari.