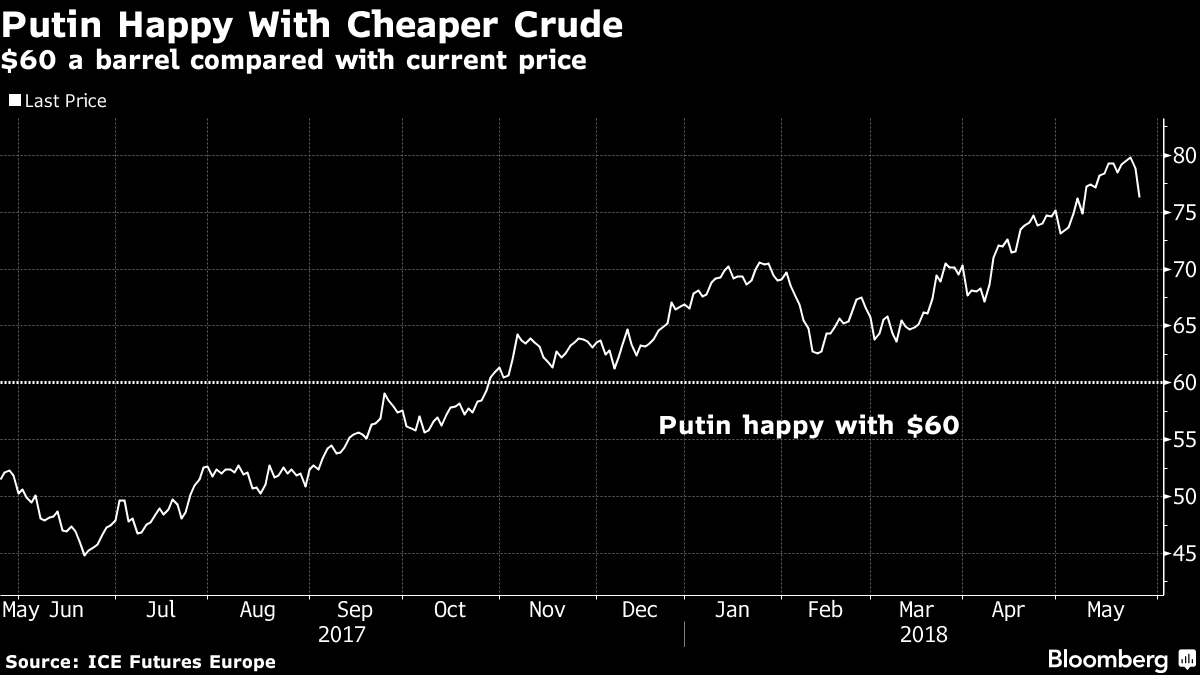 *Pact to limit oil output hinges on impact or Iran sanctions
*OPEC is said to be planning to wind back production curbs
27 May 2018, London — Oil prices at $60 a barrel fully suit Russia and the country doesn't want them to spiral higher, President Vladimir Putin said.
"We're not interested in an endless rise in the price of energy and oil," Putin told reporters at the International Economic Forum in St. Petersburg, adding that Russia and OPEC didn't plan to stick to existing output cuts. "If you asked me what is a fair price, I would say we're perfectly happy with $60 a barrel."
Oil plunged on Friday as it emerged Russia is talking to members of the Organization of Petroleum Exporting Countries about a plan to boost production for the first time since 2016. Brent futures in London slumped $2.78 a barrel, while the U.S. benchmark fell even more.
Crude prices had rallied as a result of the U.S. decision to withdraw from the Iran nuclear pact and re-impose sanctions, Putin said. Crude at $60 a barrel is a "balanced price" and enough to make necessary investments, he said.
Anything above $60 "can lead to certain problems for consumers, which also isn't good for producers," Putin said. The future of the OPEC+ pact with Russia and other oil producers will depend on whether it's possible to preserve a deal on Iran's nuclear program, he said.
"What will happen next will depend on the Iran nuclear deal and how that affects the world energy market," Putin said.
*Henry Meyer & Rosalind Mathieson – Bloomberg