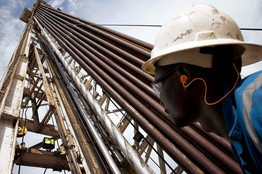 06 September 2012, Sweetcrude, KAMPALA – Plans by UK's Tullow Oil, Total of France and China's CNOOC to start pumping Ugandan crude face renewed setbacks following rift between the partners and the East African nation.
This may delay an ambitious plan to develop the country's nascent oil sector, industry watchers say.
Less than six months after Uganda approved Tullow's long-delayed $2.9 billion deal to split its oil licenses with CNOOC and Total, Uganda is now withholding approval of the companies' development plan until several issues are resolved, key being Uganda's desire for them to part-fund a large refinery.
With around 1.8 billion untapped barrels of oil, Uganda is expected to soon join Nigeria, Angola and Sudan among sub-Saharan Africa's major crude producers. However, Tullow – and its predecessors – have faced a litany of problems that continue to push back the planned commencement of production.
In an interview, Uganda Junior Energy and Minerals Minister Peter Lokeris said he would rather see initial production delayed by several years than have an unsustainable development plan implemented.
"(Oil production) is a very big project, which we must handle carefully," said Mr. Lokeris. "Oil is a finite resource and it would benefit the Ugandan people better if it isn't rapidly exploited."
While Tullow, Total and CNOOC want to sell crude on the open market – they are mulling $5 billion of investment in pipelines to the East African coast – Uganda insists that most of it is refined locally into fuel products, initially for domestic consumption and then for regional export.
While the three had initially agreed to help fund a small 20,000 barrel-a-day refinery at an estimated cost of around $1.5 billion, Uganda now wants them to build a larger facility, capable of producing around 150,000 barrels a day of refined fuel products.
A Tullow spokesman declined to comment, referring queries in this regard to previous statements. Tullow has said in the past that it doesn't intend to invest in a refinery, citing its lack of downstream expertise.
Speaking in July, Tullow's Chief Operating Officer Paul McDade said: "Our view, very strongly, is that an export pipeline is required to underpin the overall (basin) development and the government of Uganda themselves are looking at refinery options."
In an earlier interview, Mr. Lokeris said Total, CNOOC and China's CNPC had expressed an interest in building the refinery. However, the French major was noncommittal.
"Total understands the needs of the government of Uganda for a phased refinery to be built in Uganda, the capacities of which would address market demand," a Total spokeswoman told Dow Jones Newswires.
CNOOC didn't immediately respond to requests for comment.
The differences underscore the challenges inherent in building an oil industry from scratch in a poor, underdeveloped country.
Tullow, Total and CNOOC are eager to quickly recoup the $12 billion they expect to spend turning Uganda into an oil-producing nation. But Uganda's leaders, who are under pressure to translate the new-found oil wealth into jobs, say they are wary of the "curse" that afflicts resource-rich developing nations.
Regional politics are also a consideration. Uganda is a key member of the East Africa Community trade bloc, which has emphasized the importance of greater local refining capacity as a means of boosting growth.
In July, the Ugandan government appointed a panel to oversee oil development–Tullow, Total and CNOOC will only begin their investments in earnest when Uganda approves the plan.
To date, the members of the panel have yet to be appointed and government hasn't indicated when it expects to grant final approval for the projects.
According to Tullow, oil output from Uganda is expected 36 months after approval.
usuf Matovu, spokesman for Uganda's Energy and Minerals Ministry, told Dow Jones Newswires that although government is keen to ensure that the oil resources are exploited in time, every effort "must be taken to ensure that government gets the best deals out of every license and negotiations."