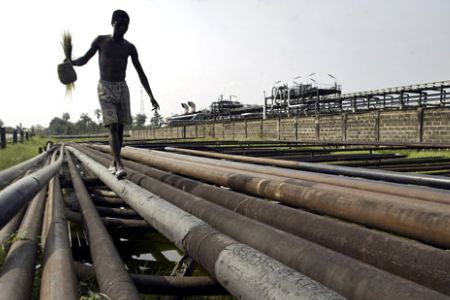 Mkpoikana Udoma
26 October 2017, Sweetcrude, Port Harcourt – 
The Rivers State House of Assembly has ordered the Niger Delta Petroleum Resources to urgently enter a new Global Memorandum of Understanding, GMoU, 
in 60 days
time, with its five host communities in Ahoada East, Abua/Odual and Emuoha Local Government Areas of the State.
This was as a result of the recommendations of the House Committee on Public Complaints, which investigated a petition against  NDPR by the affected communities.
The House resolved that the recommendations of the Committee should form the bedrock for drafting the GMoU, maintaining that the key solution to the problems was the establishment of a GMoU, which should among other things, address the individual needs of each community.
Debating on the report of the Committee, lawmakers in their various submissions, who decried the manner the company neglected the host communities despite their plights, said the company has been operating with an MoU which expired since 2004.
In his submission, Speaker of the House, Mr. Ikuinyi Owaji-Ibani, who read out the resolution of the House on the matter, regretted that the laws backing the activities of multinational oil companies had never favoured the host communities in the State.
Owaji-Ibani accused the company of operating with an expired MoU, said the new GMoU would help stabilise the operation of the company and assist the affected communities.
"We all are on the same page that a GMoU is very important between the company and its host communities; in the GMoU, the five communities hosting NDPR should be taken into an individual account as individual communities and not as a collective community.
"The communities of Obumeze, Ogbehe and Oshiugbokor in Ahoada East; Otari in Abua/Odual; and Rumuekpe in Emuoha Local Government Areas, should be given their due, this is our resolution."
Meanwhile the Chairman, House Committee on Public Complains and Petition, Mr. Evans Bipi, said the House has directed the clerk of the Assembly to write the Commissioner of Chieftaincy and Community Affairs, NPDR and the affected communities for the drafting and signing of the GMoU
within 60days
.
Bipi who is also the Chief Whip of the House, urged other oil companies operating in the state to have a robust relationships with their host communities.
"The Committee is very happy for the fact that a problem that has lingered for a very long time has come to an end with the effort of the Assembly; with this resolution I believe other companies operating in the state will also follow suite and go into a GMoU with their host communities."