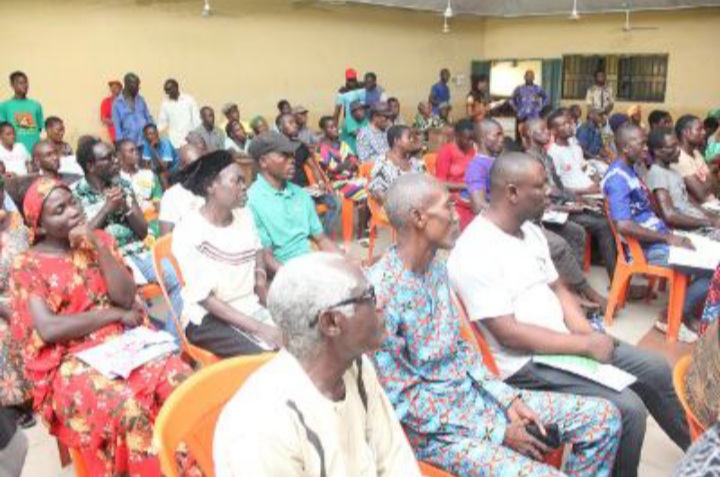 Mkpoikana Udoma
Port Harcourt — The Joinkrama clan in Ahoada West Local Government Area of Rivers State has lamented the level of environmental degradation, poverty and neglect in the area, despite playing host to 48 oil wells.
Joinkrama, a host to Adibawa oilfield in Oil Mining Lease, OML, 27 operated by the Shell Petroleum Development Company of Nigeria Limited, SPDC, is steeped in poverty, environmental degradation and neglect, with an unmotorable access road cut off by flood and erosion.
The residents, speaking during the Community Diagnostic Dialogue on the issues of oil pollution, organised by Health of Mother Earth Foundation, HOMEF, lamented that the Orashi river which passes through the area is highly polluted with crude, but still served as the major source of water for the community
A member of the community, Azaga Ovie-Oniso Kelvin, said Joinkrama is crisscrossed by oil and gas pipelines, lamenting that as oil floats the river, people can no longer fish, while crops like cassava were no longer yielding like before.
"Our rivers are highly polluted and the river cross from one community to another. You can see the environment for yourself, the roofing sheets are all brownish. What we want is for the oil company operating here to mitigate the effects of their operations in the community.
"We have written several letters to Shell, Agip and others, including their local contractors, but unfortunately, they don't listen. They only listen to violence, and because we are a peaceful people, they keep taking us for a ride," Kelvin said
Another resident, Mrs Avigien Ubileoniso Godwill, said poverty was clearly written in the faces of Joinkrama residents.
"The 2022 flood really dealth with us, our crops were all destroyed and we all were rendered homeless. The oil companies are not helping matters, even the access road is completely broken.
"The oil company should at least repair our only access road becuase the road is very important. Our graduates have been reduced to peasant farmers because there is no employment. There is no benefits at all from the oil company, we are still drinking from the orashi river."
Reacting, renowned environmentalist and Director of HOMEF, Dr Nnimmo Bassey, described Joinkrama as a geographical laboratory for the study of environmental problems, ranging from flood, gas flaring and oil spills.
Bassey who further described the situation in Joinkrama as real pitiable, horibble and unacceptable, said the Diagnostic Dialogue, was imperative to find out the situation in communities heavily impacted by global warming caused by gas flaring and oil extraction.
"As part of our series of visits to communities with environmental problems to find out the critical environmental issues as well as the losses people have sustained; as well as to sit down with them to agree on what needs to be done.
"This is one community that was completely submerged in the 2022 flood. There are also key oil and gas issues in this area. There has been a lot of oil spills over the decades, human rights abuses and repression of the people; so we thought we should hear from them and jointly formulate these problems for a discourse.
"The authorities are not attentive to what is going on in this community. Crude oil is flowing from this community non-stop but the road is completely broken and no one is saying about it. The Orashi River is eating up the community which means there is a serious loss of territory."