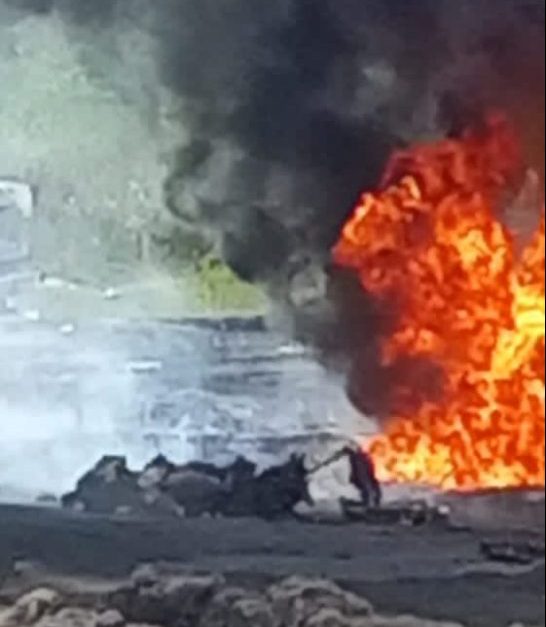 Mkpoikana Udoma
Port Harcourt — The Nigeria Security and Civil Defence Corps has said that pipeline fire explosion which occurred in Rumuekpe, Emuoha Local Government Area of Rivers State killing at least 12 persons at the weekend, should be a big lesson to perpetrators and intending perpetrators of illegal oil bunkering activities.
To this end, the NSCDC has condemned the illegal oil bunkering activities in the area, which led to the explosion that claimed the lives of about 12 person whose identity are yet unknown, while five cars and four tricycles were burnt to ashes.
The Rumuekpe fire explosion which occurred at an illegal crude oil tapping point from a pipeline operated by the Shell Petroleum Development Company of Nigeria Limited, came just about 18months after a similar fire explosion rocked an illegal refining site in the area in 2021, killing at least 22 persons.
Speaking, the Rivers State Commandant of NSCDC, Michael Ogar, while on assessment tour to the scene of the incident, condemned the defiant behaviour of those engaging in illegal oil bunkering activities in the community.
Ogar maintained that though the Command condole with the families of those who lost their lives in the incident, but this should be a very big lesson to perpetrators of such heinous act.
He explained that several attempts were made to combat illegal oil bunkering in Rumuekpe, by the command's anti-vandal operations when several illegal refineries were destroyed but it was unfortunate that the vandals have unrepentantly continue in illegal oil bunkering business.
"Our Antivandal Squad repeatedly destroyed a good number of illegal refineries in the area but as you destroy one they refabricate another, there were times our personnel were repelled during operations, but we stood firm and undeterred. This should be a warning signal to all unrepentant vandals and perpetrators of illegal dealings in petroleum products."
The NSCDC boss in Rivers State further reiterated on the need for collaborative efforts of security agencies to strengthen the fight against illegal dealings in petroleum products in the area and the entire State.
He also call on the traditional institutions, opinion leaders and respective stakeholders to put all hands on deck in order to end illegal oil bunkering activities in the various communities across the State.
Ogar urged members of the public to freely relay credible information to the NSCDC being the lead agency in the fight against vandalism of oil pipelines and the overall safeguarding all critical national assets and Infrastructures in the State.
"While soliciting for actionable intelligence and credible information from the public let me use this opportunity to also call on the Multinationals to see the need for collaborations with the security agencies in the provision of advanced technological equipment that would effect signal and raise alarm when oil pipelines are being tampered with."
He further disclosed that the Command's Disaster Management Department was assisting in the rescue operations and will continue to patrol the area to forestall escalations and further disaster.
Follow us on twitter