Mkpoikana Udoma
Port Harcourt — The Rivers State Government has tasked oil multinationals and corporate organizations to support and invest in science and technology education in the state, as well as in the country at large.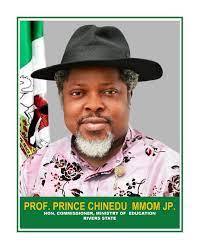 Rivers State Commissioner for Education, Prof Prince Chinedu Mmom, explained that the world was moving ahead in science and technology, and Nigeria cannot afford to remain behind in the global trend of science education.
Mom speaking at grand finale of the 2022 NLNG Science Quiz Competition in Port Harcourt, said investment in science education will lead to the development of indigenous technology, instead of depending on Western technology.
"We can't develop if we don't invest in education, science and technology. The world is moving ahead, we can't afford to lag behind. So Nigeria must buy into the global trend of science education, that's why I keep giving kudos to NLNG.
"And I urge other corporate organizations to key into this project, so we can develop even our own indigenous technology. It is high time we develop our own technology instead of depending on western technology."
The Commissioner commended NLNG for supporting science education through sponsoring the science quiz competition and urged other finds to emulate the gas multinational.
"I commend what NLNG has done, and I still use this opportunity to ask other corporate organizations and well-meaning individuals in this country and in this state to support in building an education in science and technology in the state and country at large."
Follow us on twitter