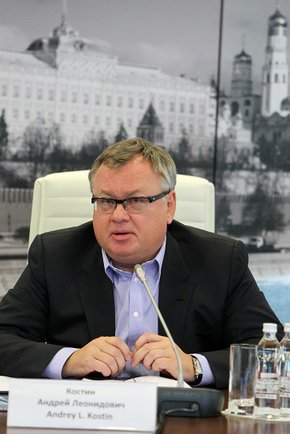 Moscow — Russia needs to attract as much private money as possible and could offer non-controlling stakes in large state companies to investors as part of a privatisation drive, Andrei Kostin, the head of state bank VTB , said on Monday.
Earlier this month, Kostin wrote that Western sanctions had destroyed elements of Russia's economy that took 30 years to build and the country needs to create a new growth model through privatisations, reallocated budget funds and more state debt.
In an interview with television channel Rossiya-24, Kostin said Russia needed to attract as much private money as possible and to increase public investment, which he envisages through a sharp increase in the level of public debt.
"Privatisation can come in many forms," Kostin said. "It could be some kind of non-controlling stake in public companies," Kostin said in the interview.
Kostin cited the sale of a near 20% stake in oil major Rosneft as an example, suggesting similar moves could be made with oil pipeline monopoly Transneft, Russian Railways or Russian Post.
COMPETITION
He said some industries lacked competition, a hangover from Soviet times, a consequence of which would ultimately see more investors take money elsewhere.
Telecoms operator Rostelecom, defence conglomerate Rostec and state nuclear energy company Rosatom could have subsidiaries privatised, he said, adding: "The main thing is not to miss the moment when we can attract private money here."
He criticised Anatoly Chubais, who in 1995 became known as post-Soviet Russia's privatisations tsar, presiding over a so-called loans-for-shares scheme under then-President Boris Yeltsin.
Under that programme, state property was sold very cheaply to well-connected businessmen who became known as "oligarchs". They wielded considerable political influence and embodied some of the worst aspects of a new capitalist system characterised by a vast gulf between the super-rich and ordinary Russians.
Kostin said his proposals were not an attempt to sell off the people's wealth.
"We have a different country now, a different president, a different government that cannot allow what happened then," he said. "Then it was a completely new sphere, there was no experience, nothing at all…"
Reporting by Elena Fabrichnaya; Writing by Alexander Marrow Editing by Gareth Jones – Reuters
Follow us on twitter