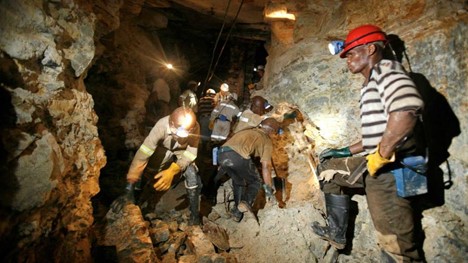 Johannesburg — South Africa's African Rainbow Minerals (ARM) (ARIJ.J) on Monday reported a 40% jump in its half-year profit, as higher coal and manganese prices offset the impact of cost pressures and rail logistics problems.
ARM's headline earnings per share (HEPS) – the main profit measure in South Africa – came in at 26.38 rand ($1.45) in the six months ended Dec. 31, up from 18.87 rand in the year-ago period.
The diversified miner, which has gold, platinum group metal (PGM), iron ore, coal and manganese assets, said its coal division's headline earnings rose by 300%, as higher thermal coal prices eclipsed the impact of poor rail performance on export volumes.
Earnings from manganese were up 54% on firmer prices, ARM said, adding that the iron ore division reported a 12% decline in headline earnings due to lower prices and a 15% drop in export sales, citing rail logistics challenges.
South African miners continue to struggle to haul minerals to export markets due to the state-owned rail utility Transnet's limited capacity. Transnet says its capacity has been affected by the shortage of locomotives, spares, cable theft and frequent vandalism of its rail infrastructure.
The miner declared an interim dividend of 14 rand per share, returning $173.27 million to shareholders.
($1 = 18.1504 rand)
*Nelson Banya; Editing: Christopher Cushing & Sherry Jacob-Phillips – Reuters
Follow us on twitter