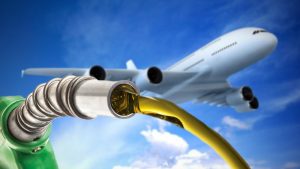 Singapore — South Korean jet fuel exports to the United States in June are headed for a near two-year high as oil traders cash in on stronger U.S. demand as Asia's aviation sector is still recovering, industry sources said.
Jet fuel cargoes loading from South Korea in June for U.S. ports may rise to 500,000 metric tons, according to estimates from shiptracking firm Kpler, up 42% from May and the highest since August 2021.
Of that, 217,000 metric tons will load from the ports of Ulsan or Yeosu, where South Korea's top refiners SK Energy and GS Caltex are located, and head for the U.S. West Coast, Kpler data showed. TotalEnergies> and Cargill are among the companies shipping fuel to the U.S., the data added, though companies don't typically comment on their trading activities.
The slower return of air travel in Asia is pushing excess jet fuel supplies from the region toward the U.S. where demand is expected to rise this summer, said the sources and analysts.
In terms of adding airline seat capacity, "compared to North America, Asia is starting from further behind as the region has been relatively slow to emerge out of COVID's shadow, especially due to China's late abandonment of its Zero COVID policy," said Ellis Taylor, Asia editor at aviation analytics company Cirium.
Surging jet fuel exports from one of Asia's leading oil product exporters may tighten supply in the region and support prices and refining margins.
Rising U.S. West Coast jet fuel prices are also drawing imports from Asia. Jet fuel in Los Angeles for July delivery is at $2.4921 a gallon, equal to $104.67 a barrel, versus the Asian benchmark price of $90.41 a barrel in the oil trading hub of Singapore, according to Refinitiv data.
Planned maintenance at PBF Energy's Torrance, California, oil refinery near Los Angeles for June has reduced jet fuel output for the region, said BMI Research senior analyst San Naing.
That has left jet fuel inventories at 8.8 million barrels for the U.S. West Coast as of the week ending on June 9, below the five-year average of 9.3 million and 10.2 million barrels a year ago, according to data from the U.S. Energy Information Administration.
Falling shipping costs have also supported the trade between South Korea and the West Coast. The cost of a long-range tanker capable of carrying 60,000 tonnes of oil products across the Pacific has dropped to $2.4 million as of June 9 from $3.9 million on April 6, according to data from shipbrokers Simpson Spence Young.
"A key reason behind the increase in jet fuel export to the U.S. West Coast has been weakening freight rates of long range clean product tankers," said BMI's Naing.
Expectations for more international travel from the U.S. West Coast and fuel stockpiling for long-haul flights to Asia has spurred demand, a U.S.-based trader said.
California added almost 750,000 more airline seats in May versus April, the most in the U.S., data from aviation analytics firm OAG showed.
Total U.S. seat capacity in May rose by almost 9% from a year earlier, the data showed.
"Most U.S. carriers have indicated that even amid the gloomy economic outlook, consumers there are still traveling," said Cirium's Taylor.
Reporting by Trixie Yap, additional reporting by Shariq Khan in Bangalore and Erwin Seba in Houston; Graphics by Matthew Chye; Editing by Florence Tan and Christian Schmollinger – Reuters
Follow us on twitter