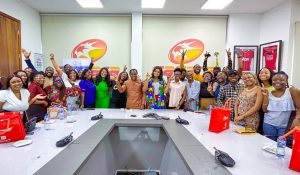 Oritsegbubemi Omatseyin
Lagos — Sahara Group, a leading international energy and infrastructure conglomerate, has partnered with The Comms Avenue, a Pan-African capacity-building platform for Communications professionals, to host young professionals in the industry at a private event in Lagos to celebrate World PR Day (WPRD).
Building on the theme of this year's WPRD, 'Harnessing the Power of Public Relations' and the Unique Selling Proposition of Sahara Group, "Making A Difference", the focus of the event was to show young professionals the road less travelled in becoming impact-driven professionals who are strategically positioned to make a difference with Communications and Public Relations.
The event featured a panel conversation with Mr. Bethel Obioma, Head, Corporate Communications, Sahara Group, and Ms. Adefisayo Akinsanya, Head, Marketing Communications, Accion Microfinance Bank where they shared key lessons and best practices, they have successfully adopted to add value to their organisations by leveraging the power of Communications and PR.
Speaking on the theme of the event, Obioma said: The Sahara Group mindset seeks to disrupt norms and the usual in our quest to explore how we can do things differently. Creating value should be the focus. The moment you create and provide value, of course, that's when you make a difference. At Sahara, we always set out to explore what hasn't been done before and how we can do it better and sustainably. This is what the road less travelled requires – disruptive thinking that leads to impact.
Akinsanya, sharing her professional experience, also emphasized that: It is important for Communications professionals to first understand their value and remain passionate about it. Communications professionals are the soul of the organisation and we are the centre of every strategy, tactic, and goal. We, therefore, need to support key stakeholders to see the value we are bringing to them.
Aside from having the opportunity to have their career questions answered, the young professionals at the event benefited from networking with the senior professionals and their peers. They also left the event armed with information on how to further develop their professional capacity and stand out in the work that they do within and outside their organisations.
Omotoyosi Ajayi, a communications consultant who attended the event said: This event has helped to boost my professional confidence. Partnerships like these are very important for Communications professionals because it helps to make us more competent. Sahara Group and The Comms Avenue have done a great job in contributing to the growth of Communications professionals in Nigeria and giving us access to the knowledge that we need to thrive and make a difference wherever we work.
Speaking about the event, Co-Founder of The Comms Avenue, Sharon-Ann Adaigbe said: Our partnership with Sahara Group to celebrate this year's World PR Day is in alignment with our vision to upskill Comms talent across Africa. Through this event, young professionals within the Nigerian Communications industry are now better equipped to use their skills as communicators to make a difference in any organisation and we believe that going forward, they will be able to practically apply the knowledge they gained from the event to deliver better results at work.
Chisim Chukwu, one of the young professionals in attendance commended Sahara and The Comms Avenue for a thoughtful and well-organised event noting that It was truly worth the time as she learned what it means to take the road less traveled as a Communications professional and deliver measurable results.
#MADwithComms is a Sahara Group initiative aimed at promoting mentoring, peer relations, capacity-building, and growth opportunities for young Public Relations and Communications professionals.
Celebrated on 16th July, World PR Day is a day dedicated to celebrating the Communications and Public Relations profession across the world.
Follow us on twitter