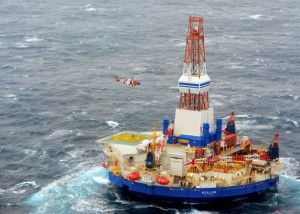 10 January 2013 – US Interior Secretary Ken Salazar called the series of problems Shell has had off Alaska "troubling" and raised questions about the supermajor's ability to resume Arctic drilling later this year.
"It's troubling that there was such as series of mishaps," Salazar said on Wednesday after a meeting of an offshore-drilling advisory panel in Washington. "There is a troubling sense I have that so many things went wrong."
Salazar was speaking a day after Interior announced that it was launching an "expedited, high-level assessment" of Shell's 2012 offshore drilling programme. The review is expected to be completed within 60 days.
Shell dealt with a raft of setbacks in 2012 as it prepared to begin its high-profile exploration campaign in the Beaufort and Chukchi Seas.
In September, the company had trouble getting US certification for its containment barge Arctic Challenger because of damage to the containment dome. That was after the drillship Noble Discoverer slipped its mooring and came within a few dozen metres of running aground.
These mishaps culminated less than two weeks ago when the Kulluk drilling broke free of a tugboat and was grounded as it was being towed from Alaska to Seattle, Washington, for maintenance.
While none of these mishaps occurred during the actual drilling process, they increase pressure on Shell to show it can handle the risks of exploring the Arctic.
"We don't know what went wrong, and that's why it's important that this high-level review occur," Salazar told reporters.
Salazar also raised the prospect that damage to the Kulluk could prevent Shell from resuming operations as planned in the Arctic this summer.
"It may be that Shell isn't even ready to move forward in 2013, because of assessments taking place of the Kulluk," Salazar said. "We need to make sure than when it does happen, that we do it in a way that is safe and protective of the environment."
He added: "Shell has a lot of business decisions that it is going to have to make on the 2013 season. If they don't meet the permit requirements, we won't let them go forward."
The chorus of critics has gotten louder since the Kulluk incident, which has caused no noticeable environmental damage thus far.
US Democratic representative Ed Markey said in a statement this week: "We have seen enough accidents to know that right now Shell is not prepared to safely drill in the Arctic."
Chuck Clusen of the Natural Resources Defence Council was more forceful, writing in a blog post that "it doesn't take much examination of Shell Oil's myriad mistakes and mishaps to realise no oil company can match the Arctic Ocean and the hazards that come with it".
Shell spokeswoman Kelly op de Weegh said the company welcomes the review and remains confident that it will "demonstrate that the drilling operations went well".
"We welcome that review, and we fully support an investigation into recent marine transit issues," she said in a statement. "It's too early to speculate on any impacts to our ongoing exploration programme. We will first complete an assessment of the Kulluk, but our confidence in the strength of this programme remains."
*Luke Johnson & news reports for Upstreamonline.