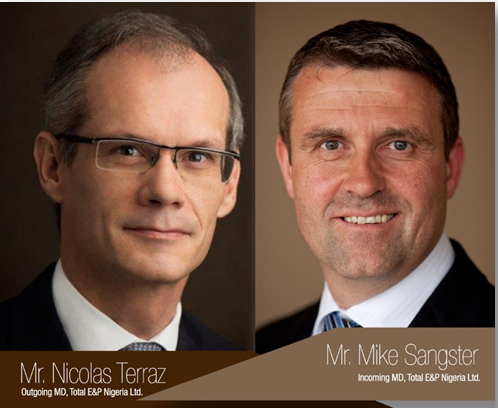 OpeOluwani Akintayo
Lagos — Mike Sangster has taken over the helm of affairs at Total E&P Nigeria Limited as Managing Director while Nicolas Terraz has been elevated to the position of Senior Vice President of the company.
The Board of Directors of Total E&P Nigeria appointed Terraz as MD/Chief Executive of Total E&P Nigeria Ltd, TEPNG, with effect from 17 September 2015, succeeding Mrs. Elisabeth Proust.
Terraz is a graduate of French engineering schools Ecole Polytechnique and Ecole Nationale des Ponts et Chaussées. He also earned a Master's of Science in Technology and Policy from the Massachusetts Institute of Technology (MIT), the United States.
Terraz joined Total in 2001 after working for seven years in the French Government, in the Ministries of Industry and Public Works and Transportation.
In his career in Total, Terraz acquired extensive experience in operations and management of various projects in Total affiliate companies in many countries, including Myanmar, Qatar, and France.
He served as Managing Director of Total E&P Myanmar and Total Group Representative in Myanmar (from 2008 to 2011) and as Managing Director of Total E&P France (2011 to 2013).
Terraz was appointed Vice President of New Ventures & Asset Management for Total Exploration and Production on March 1st, 2014.
Mike Sangster
In March 2015, Mike Sangster was appointed Senior Vice-President, Investor Relations of Total. He succeeded Martin Deffontaines who was appointed Exploration & Production Senior Vice President Strategy, Business Development, and R&D.
Prior to joining the Investor Relations team, Mike Sangster was the Managing Director of Total E&P Australia since 2010.
He has held a variety of positions in Exploration & Production within Total since 1995. Before his role in Australia, Mike was President & General Manager of Total's Upstream subsidiary in Thailand. Other roles have included Vice President of Economics, Strategy and Planning, Vice President Business Development & Strategy for Total E&P USA, and Senior International Negotiator.
Prior to joining Total, Mike qualified as an Electrical Engineer at the University of Aberdeen and was Corporate Development Manager for Scottish Power Plc.
A colorful send-off dinner/welcome dinner was organised in honour of both men in Lagos on Tuesday where encomium flowed for Nicolas Terraz for his humility and accomplishments.
Mike Sangster was enjoined to follow in the footsteps of Terraz and assured of a wonderful time in Nigeria.