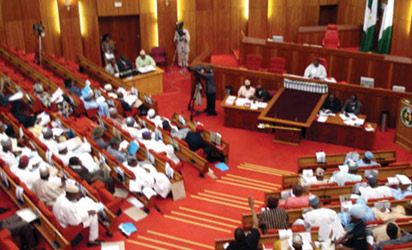 Oscarline Onwuemenyi
22 November 2017, Sweetcrude, Abuja – The Senate on Tuesday announced the debate on the 2018 budget submitted to the joint session of the National Assembly by President Muhammadu Buhari about 2 weeks ago will not hold as scheduled.
This is contrary to its earlier plan to commence debate on the general principles of the budget.
The Senate president, Dr. Bukola Saraki, announced that the discussions will now start on November 28.
Mr. Saraki said the postponement was due to the delay in the passage of the 2018-2020 Medium-Term Expenditure Framework, MTEF, and distribution of budget documents.
Mr. Saraki had on November 16 announced that the consideration will hold on Wednesday and Thursday this week.
"We have to pass the Medium Term Economic Framework, which we are hoping to be laid by tomorrow (Wednesday) to be passed this week," he said.
"Secondly, the distribution of documents. I hope you have all received the documents accompanying the 2018 budget."
He announced the documents to include "revenue and expenditure of Federal Government of Nigeria owned enterprise and agencies, the consolidated 2016 implementation report, budget implementation report for first quarter 2017 and second quarter 2017 and also budget volume one and two and the joint sitting votes and proceedings also should be received today."
He said November 28 and 29 will be dedicated to debate on the budget, while November 30 will be for the debate on revenue and expenditure budget of Federal government on enterprise and agencies.
At the same time, the Deputy Speaker of the House of Representatives, Rep. Yusuf Lasun, has said that members would commence debate on the general principles of the 2018 Appropriation Bill of N8.6 trillion from Nov. 28.
Lasun, while announcing the date during plenary session, said that the debate would be concluded on Nov. 30.
He added that it would be followed by a public hearing scheduled for Dec. 4.
The Deputy Speaker urged the lawmakers to ensure they get copies of the 2018 budget proposal presented by President Muhammadu Buhari to the joint session of the National Assembly.
"Members are to indicate the date they wish to contribute to the debate as there is need for us to participate actively and that the bill is given expeditious attention,'' Lasun said.
The president, while presenting the 2018 budget proposal to the National Assembly, said that it would consolidate on the achievements of previous budgets to improve the country's economy.