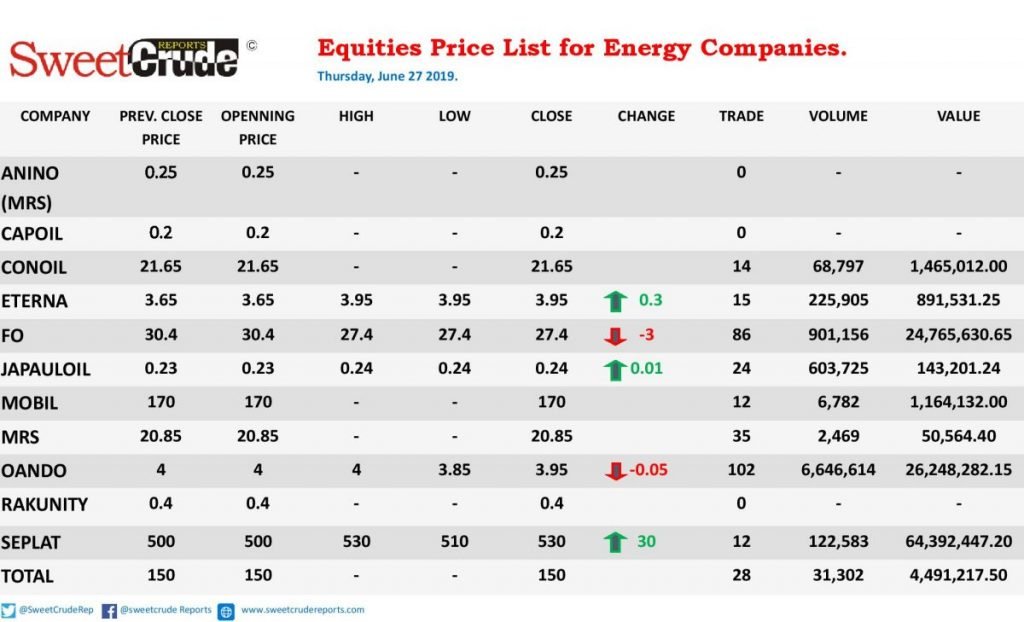 Lagos — Thursday trading activities on the floor of Nigerian Stock Exchange, NSE for energy companies saw Seplat Petroleum lifting market activities with huge gains.
Seplat Petroleum opened the day's market activities with N500 and closed with N530 having traded between N510 and N530 in 12 trade deals, 122,583 volumes valued at 64,392,447.20.
Eterna also recorded gain in 15 trade deals, 225,905 volumes valued at 891,531.25.
Japaul Petroleum kicked off today's trading with N0.23 and closed with N0.24 in 24 trade deals, 603,725 volumes valued at 143,201.24.
On the losers side, Oando opened trading with N4 and closed with N3.95 in 102 trade deals, 6,646,614 volumes valued at 26,248,282.15.
Forte Oil also recorded loses opening with N30.4 and closed with N27.4 in 86 trade deals, 901,156 volumes valued at 24,765,630.65.
Top Gainers
Seplat: 30%
Japaul: 0.01%
Top Losers
Forte: -3%
Oando: -0.05%