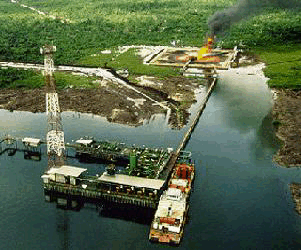 25 June 2013, News Wires – Eight Shell-contracted workers have been arrested in Nigeria following a pipeline fire which caused a shut-in last week, according to a report.
The arrests came after the explosion and fire on the Trans Niger pipeline in Bodo West, Ogoniland, Reuters reported.
"Troops … have arrested eight persons in connection with the recent fire outbreak on an SPDC pipeline," the news wire quoted Joint Task Force (JTF) spokesperson Onyema Nwachukwu as saying on Monday.
"They will be handed over to an appropriate prosecuting agency if found culpable at the end of the investigations."
Reuters quoted Shell as saying it is aware of the arrests and is cooperating with authorities.
The workers were contracted by Shell from two companies to make repairs on the line, Reuters reported.
As one of the largest oil companies operating onshore Nigeria, Shell regularly suffers pipeline ruptures, the majority of which it blames on vandalism and illegal bunkering.