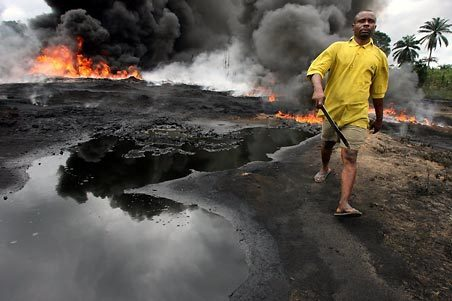 02 February 2013, Sweetcrude, Abuja – Shell Companies in Nigeria, SCiN, on Friday made a commitment before the Senate Committee on Environment and Ecology to clean up oil spills and carry out remediation of impacted Ogoni communities.
The commitment was made by Mutiu Sunmonu, the Managing Director and Country Chairman of Shell, who was accompanied by some othere ranking officials of the company.
Mr. Sunmonu said Shell will take immediate steps to remediate the oil spill in of Ejema Ebubu and Bomu Manifold communities before the end of this year.
The committee however exppressed displeasure over the delays to carry out remediation of the oil spill impacted sites and the ineffectiveness of some remediation efforts, adding that it was dissatisfied with the handling of Ejema Ebubu, Bomu Manifold, Goi and Bodo spill sites among others, while urging Shell to carry out comprehensive clean-up of impacted sites before the end of 2013.
While responding to observations of the committee, Sunmonu expressed Shell's willingness to remediate the impacted sites within its right of way, adding however, that outside the company's right of way; the biggest challenge has been that of gaining access to such sites.
Sunmonu maintained that owing to Shell's inability to gain access in the past, it may be difficult to make a definite commitment on the remediation of Goi and Bodo oil spill sites within the year.