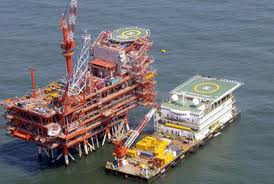 *Mobil demands competitive fiscal terms
20 February 2013, Sweetcrude, Abuja – As the logjam over the Petroleum Industry Bill, PIB, persists Shell threw a bombshell Wednesday when it announced it has postponed two major projects in in Nigeria worth $30 billion due to the delay in to the delay in passage of the reform bill.
Mutiu Sunmonu, Managing Director of Shell Petroleum Development Company said Nigeria needed to develop two deepwater fields every year, at a cost of $30 billion, to maintain a steady production at 3 million b/d, but added, that this had been blocked by the uncertainty surrounding passage of the bill.
"Onshore production is plagued by serious financing problems. We have two big projects costing $30 billion we would like to do. But we are waiting for the Petroleum Industry Bill to allow us to make such investment," he said.
Sunmonu also said production from the onshore fields was nowhere near full capacity with sabotage, attacks and crude oil theft, causing many outages.
Managing Director of Mobil Producing Nigeria Unlimited, Mark Ward also said at the conference that Nigeria must ensure its tax and fiscal packages offered fair returns on investments.
"Nigeria needs to be competitive in terms of returns on investment. We invest, we expect returns based on the contract in place," Ward said.
The PIB designed to cover everything from fiscal terms for offshore projects to the reform of the state oil company, has been on the legislative cards for over three years, but has yet to be passed into law.
Meanwhile, the Federal Government plans to hold talks with foreign oil partners in coming weeks, over a lull in crude oil exploration where the country's production and reserves stagnated over the last six years.
Group Executive Director in charge of exploration and production at the NNPC, Abiye Membre said at the conference that the lack of exploration activities in the past few years is a major concern to the government.
"We plan to hold talks with our joint venture partners in coming weeks on the need for more concerted efforts on drilling programs," Membre said.
Abiye said Nigeria's oil production hovered between 2.4 million and 2.5 million b/d, the level it was pre-militancy period in 2006, although the country has capacity to produce up to 3 million b/d, while reserves had remained at 35 billion barrels during same period.