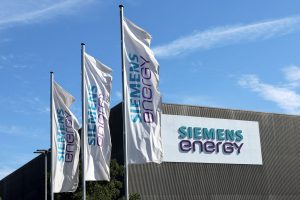 News wire —Siemens AG will transfer part of its stake in Siemens Energy AG to its pension fund, a move that will reduce the size of a looming writedown the German conglomerate will have to take on the holding following a sell-off of its shares.
The shift comes less than a week after Siemens Energy's stock plunged by a third after it warned of deeper quality problems at Siemens Gamesa – just weeks after the group managed to acquire the remaining stake in the wind turbine unit.
Siemens will cut its direct stake in Siemens Energy, which was spun off from Siemens in 2020, to 25.1% from 31.9%, it said late on Wednesday. Based on Wednesday's closing price, the 25.1% stake was worth around 3.14 billion euros ($3.42 billion).
"This is a first and visible step, we intend to further reduce the stake in Siemens Energy, step by step," a Siemens spokesperson said when asked why it stopped reducing the stake at 25.1%, which constitutes a blocking minority.
Siemens, Siemens Energy's largest shareholder, has been trying to cut its stake for a while, but share price swings in the wake of profit warnings and problems at Siemens Gamesa have delayed any substantial stake reduction.
Siemens must adjust the value of its direct stake at the end of each quarter, with June 30 being the next key date, meaning it will have to write down the 25.1% stake in line with the 23% share price decline Siemens Energy suffered since late March.
Based on Wednesday's closing price, that could result in a writedown of around 900 million euros.
Siemens Energy warned last week that quality problems at its wind turbine unit would take years to fix, dealing a heavy blow to one of the biggest suppliers to the world's expanding renewables business.
Reporting by Juby Babu, Emma-Victoria Farr and Alexander Huebner; Writing by Christoph Steitz; Editing by Maju Samuel and Susan Fenton – Reuters
Follow us on twitter