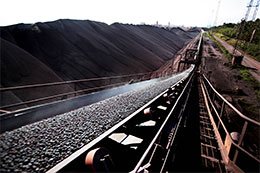 05 August 2014, Lagos – The responsibility of steering the ship of theNigerian Geological Survey Agency, now rests on Mr. Alex NdubuisiNwegbu, who was recently appointed the agency's Director-General. In this interview with GABRIEL EWEPU, he stressed the need to use the mining sector for rapid economic diversification.Excerpts:
How do you feel about your appointment as Director-General, Nigeria Geological Survey Agency?
Naturally, everybody aspires to the highest level of his or her profession. I have been in this business for more than 30 years, and so if it culminates in my assuming office to a highest possible level as a professional and being the Director-General of Nigeria Geological Survey Agency, it is a welcomed development.This will offer me the opportunity to actually serve the nation in this capacity.
As the new helmsman at NGSA, what is your roadmap to take the agency to the next level?
I grew from the system, so we already have direction.We are going to make NGSA the primary agency of government responsible for the generation, collation, archiving and dissemination of geosciences. And this is a great responsibility because a lot of agencies rely on these information we generate here. NGSA is not just about minerals, people in the construction industry, land use planning, military and surprisingly medicine and pharmaceuticals depend on our information.
It is an enormous responsibility to be asked to provide necessary information for the wide range of interest groups. We have the competency in terms of the training to carry out these responsibilities for the various areas of geo-physics, geology, hydrogeology, geo-chemistry, GIS and remote sensing. The synergy of all these specialised groups produce these level of information that address the needs of the people who are desirous of having our information relevant to their own operations.
Do you think your agency has the capacity and potential to facilitate the much expected diversification of the nation's economy through solid minerals?
Absolutely! I can tell you our agency is the starting point in the value chain when it comes to enhancement of the sector,and improving the economy of this country.Without geosciences data the investor will not know where and what to invest in, and so many other decisions to make.
Being the first port of call for any investor, the NGSA is where he will find out which mineralsare available in Nigeria, the grade, location, form, geological condition and where they are located. With this knowledge they are quick to make investment choices. Whether to invest in gold in Nasarawa State, tin in Plateau State, coal in Enugu State, bitumen in Ondo State. These are variables you must be equipped to decide on before you commit so much money, because it is an area that requires so much capital investment.
And of course the gestation period is equally lengthy, and for you to commit that kind of money into that investment you must be absolutely or near sure of the information you have. It is the person who has the information that will know what, how, and what to invest. NGSA is already playing a critical role on this quest to diversify the nation's economy. So it is for us to get the enabling environment to provide credible geosciences data.
Are you comfortable with the poor effort to attract foreign direct investments to solid minerals sector to boost economic diversification?
I am not comfortable with the emphasis laid on the solid minerals sector. I think the basic problem is lack of understanding of the sector by both the policy makers and executors. People easily get discouraged when they invest huge amounts of money on a particular solid mineral and nothing comes out of it, and they decide not to continue.
Somebody may invest $50 million and find nothing, or he does not find up to a commercial quantity or quality he wants. So people need education about investment in the solid minerals sector, unlike the investment made in real estate, where in a short, while you see structures springing up.
People are well informed about the oil industry, which is mainly run by expatriates, who understand the sector even though they find nothing after investing millions of dollars. So, people need enlightenment on the peculiar nature of the solid minerals sector.
Are you indicting the banks that they are not ready to fund the sector?
Not that banks don't want to fund the sector because we have had interactions with the banks, and they have said specifically that, one, the money in their custody are people's money, and before they can commit people's money into investment they would be absolutely sure about the investment.
One of the major challenges in the sector is that investors don't have enough geoscience information to make investment decisions. The banks are saying, 'if we don't have enough geosciences information how can we invest other people's money?" So we are not comfortable that people are not sure how we can make returns on investment.
– Vanguard