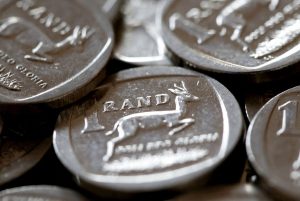 – CPI and rate decision this week's focus
Johannesburg — The South African rand was slightly weaker in early trade on Monday, with this week's major focus local inflation data out on Wednesday and an interest rate announcement on Thursday.
At 0640 GMT, the rand traded at 18.1025 against the dollar, about 0.1% weaker than its previous close.
The rand gained around 4% against the U.S. currency last week, bolstered by bets that the U.S. Federal Reserve will increase interest rates only once more because of cooling inflation in the world's largest economy.
The rand was at one stage on track for even larger gains, but it lost about 1% on Friday as traders booked some profits and as prolonged power blackouts weighed on the investor mood.
Rand Merchant Bank said in a rand morning briefing that continued profit-taking and lacklustre Chinese economic data were weighing on the rand in early trade.
"Locally, everyone is looking ahead to Thursday's MPC (monetary policy committee)," RMB added.
A majority of economists polled by Reuters predict the South African Reserve Bank (SARB) will leave its main interest rate (ZAREPO=ECI) unchanged at 8.25%, although it is still a close call with a significant minority expecting another 25-basis-point hike.
Wednesday's June Consumer Price Index (CPI) data (ZACPI=ECI), (ZACPIY=ECI) could influence the SARB's thinking.
Rand Merchant Bank predicts a deceleration in headline inflation to 5.4% year on year in June from 6.3% in May, which would take inflation back within the SARB's 3%-6% target band for the first time since April 2022.
"A figure on our forecast would help the view of no hike from the SARB and affirm our forecast that inflation will average 5.9% this year, i.e., within the target band," RMB analysts said.
*Tannur Anders, editing: Alexander Winning – Reuters
Follow us on twitter