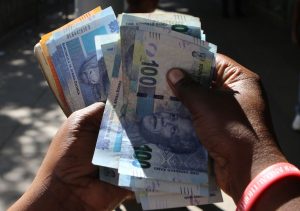 Johannesburg — The South African rand fell in early trade on Monday as the dollar advanced, at the start of a week where trading could be thinner and market conditions more volatile because of upcoming public holidays.
At 0625 GMT, the rand traded at 18.1350 to the dollar, down about 0.2% on its Friday close.
The U.S. currency was up 0.1% against a basket of rivals.
South Africa marks Freedom Day on Thursday, and with the following Monday another public holiday, Workers' Day, many local traders will be away from their desks from Wednesday's market close until next Tuesday.
"It would make sense that market conditions will be much thinner this week," ETM Analytics said in a research note.
This week's economic data releases include the central bank's leading business cycle indicator for February (ZALEAD=ECI) on Tuesday, the March producer price index (ZAPPIY=ECI) on Wednesday, and March money supply (ZAM3=ECI), trade (ZATBAL=ECI) and budget figures (ZABUDM=ECI) on Friday.
"Although none is typically market-moving, they could exert some influence in thinned-out market conditions," ETM Analytics said.
On global markets, the focus was on a slew of central bank policy meetings that could signal how soon the steep increases in interest rates globally might come to an end.
South Africa's benchmark 2030 government bond was marginally weaker in early deals, with the yield up 1.5 basis points to 10.135%.
*Alexander Winning – Reuters