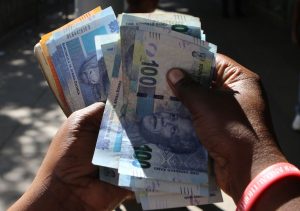 Johannesburg — The South African rand was slightly stronger in early trade on Tuesday, recovering some ground before the release of local unemployment figures.
The rand fell on Monday on worries over the health of China's economy, South Africa's biggest trading partner.
At 0622 GMT, it traded at 19.0550 against the U.S. dollar, around 0.2% firmer than its previous close, helped by the dollar slipping on global markets.
Statistics South Africa will publish second-quarter unemployment data (ZAUNR=ECI) at 0930 GMT, with analysts polled by Reuters predicting the official unemployment rate will come in at 32.9%, the same as in the first quarter.
"The economy is simply not growing sufficiently to allow businesses to expand and increase employment," ETM Analytics said in a research note.
South Africa's benchmark 2030 government bond was little changed in early deals, the yield down 0.5 basis points at 10.325%.
*Tannur Anders, Editing: Alexander Winning – Reuters