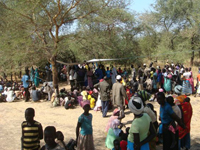 14 March 2013, Khartoum – South Sudan and Sudan have move another step towards final resolution of their oil crisis as the former has ordered taps to be turned on South Sudan has "ordered" oil companies to once again begin production over a year after the country's feud with neighbour Sudan led to a total shut-in.
The order came just a few days after the two countries agreed to a restart following a meeting in the Ethiopian capital Addis Ababa.
"The foreign oil companies and pipeline operators operating in (the Republic of South Sudan) are hereby ordered and instructed forthwith to recommence and re-establish the production of crude oil and all petroleum operations within the producing blocks 1/2/4, 3/7 and 5a," Reuters quoted Oil Minister Stephen Dhieu Dau as saying on Thursday.