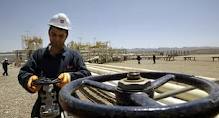 05 September 2013, News Wires – South Sudan is already producing 180,000 barrels per day of oil after the African nation reached an agreement with neighbor and political rival Sudan earlier this week on exports.
The Juba administration has set its sights on 250,000 bpd by the end of the year after Sudan dropped an ultimatum on a halt in production flowing from the south.
On Tuesday South Sudan's President Salva Kiir and his Sudanese counterpart Omar al Bashir agreed to continue the flow of oil "without any impediments" after claims and counterclaims of each country supporting rebels groups involved in sporadic fighting in border regions.
"Technical teams are meeting and plan to increase the production starting within the next two weeks," Reuters quoted Oil Ministry spokesperson Nicodemus Ajak Bior as saying.
Production in South Sudan quickly slipped from 200,000 bpd to under 100,000 bpd as the country prepared for a total shut-in in the face of a 7 August ultimatum from Sudan.
Ethiopia then intervened to broker a deal, a process which saw Sudan extend the deadline for a total production halt several times.
South Sudan, already financially crippled from previous shut-ins following its split from Sudan in July 2011 was facing the prospect of once again having no stable commodity to fill the country's coffers for some time.
The land-locked country has no export infrastructure of its own and so must send oil through Sudan's pipelines for discharge at ports in the Red Sea. When it gained independence, South Sudan took with it about three quarters of the once unified country's total oil reserves.
– Upstream