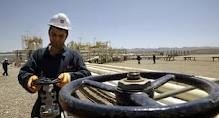 18 October 2012, Sweetcrude, JUBA – FOLLOWING ratification by the Sudanese parliament of a deal with South Sudan allowing the latter to resume oil exports through their country, South Sudan is set to resume oil production.
Already, South Sudan has directed oil producing companies operating in the country to resume production.
Reuters quoted Oil minister Stephen Dhieu Dau as issuing the directive Thursday.
Dau : "Foreign oil companies … are hereby ordered and instructed forthwith to recommence and re-establish the production of crude oil and all petroleum operations within the producing blocks 1,2,4,3,7 and 5a".
The minister said he expected exports to reappear on the market about three months from today, a delay which had been expected since the pipelines had been flooded with water and some oil fields were damaged during fighting between the two states in April.
In Ethiopia late last month, South Sudan and Sudan forged an pact allowing exports to resume after they were shut down in January in a dispute over how much it should pay Sudan to export oil through the northern neighbour's pipelines to the Sudanese Red Sea terminal, Port Sudan.
Many of the wider political issues in the dispute that took the two states close to an all-out war, such as the disputed territory that lies between them, remain unresolved in the wake of the interim agreement.