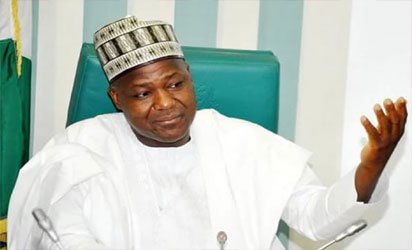 Oscarline Onwuemenyi
08 November 2017, Sweetcrude, Abuja – The Speaker of the House of Representatives, Hon. Yakubu Dogara, has called for improved synergy between the legislature and the executive to ensure speedy passage of the 2018 Appropriation bill.
Dogara made the call during the presentation of the 2018 budget proposal by President Mohammadu Buhari before the joint session of the two chambers on Tuesday in Abuja.
The speaker noted that the executive-legislature relationship emerged "not to turn on themselves but to turn to each other in the very interest of our constituents and national progress.
"This is the way we must go as our constitutional order is organized in a way that deliberately denies any of the three arms the strength to go at it alone on any national issue."
He added that, "Where that has happened, it is progress that suffers. That reminds us of the adage that says, If you want to go fast, go alone but if you want to go far, go together. Examples abound on how fast but not far, the executive has gone on some national issues where it decided to go alone."
The speaker emphasised that national challenges could be overcome when all tiers worked together. According to him, there is no national challenge the arms of government cannot overcome if they work together.
Dogara therefore appreciated President Muhammadu Buhari for adhering to the provisions of the 2016 Appropriation Act.
"I congratulate Mr. President for honouring the provisions of the 2016 Appropriation Act which required the budget to last for 12 months in line with the provisions of the Constitution, from May 2016 when it was assented to, to May 2017.
"This enabled the executive to report an accomplishment of over N5 trillion expenditure out of the N7.4 trillion budgeted for 2016, an unprecedented record by all standards, made possible only because the execution of the budget was allowed to last for 12 months.
"That is what the National Assembly has always called for in line with the original intent of the framers of our constitution," he said.
Dogara also assured Nigerians of quick passage of the bill.