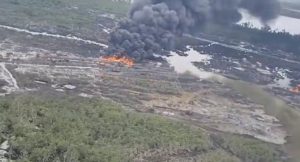 Mkpoikana Udoma
Port Harcourt — The Youths and Environmental Advocacy Centre, YEAC-Nigeria has condemned the use of fighter jets to carryout air strikes on artisanal refining sites in Nigeria, citing the environmental implications of destroying the already degraded Niger Delta ecosystem.
This is as the air component of Operation Delta Safe, OPDS, in recent times has intensified air interdiction missions on illegal refining sites along the creeks of Rivers, Bayelsa and other Niger Delta states.
Director of Public Relations and Information, Nigerian Air Force, Air Commodore Edward Gabkwet, who justified the bombings, said the move was aimed at containing the activities of terrorists, militants and other criminal elements bent on destabilizing the nation's economy and making life unbearable to Nigerians.
Reacting, YEAC-Nigeria wondered why the military was still carrying out air strikes, when Tompolo's firm, Tantita with over $130million pipeline security contract, NSCDC, Navy, other anti-bunkering teams were already deployed and making progress.
Executive Director of YEAC Nigeria, Mr. Fyneface Dumnamene Fyneface, kicked against the bombing of vessels, badges, boats and illegal refinery sites allegedly containing stolen crude oil, using fighter jets by the Nigerian Airforce and partner security operatives.
Fyneface who called on President Bola Tinubu to prevail on the military to exercise restraints, advocated for the adoption of 'carrot and stick' approach to address the menace of artisanal refineries in the Niger Delta, while demanding for alternative livelihoods for youths directly involved in artisanal refining activities.
He said already YEAC-Nigeria was campaigning against artisanal refining and pollution through advocacy, alternative livelihoods opportunity for artisanal refiners including Presidential Artisanal Crude Oil Refining Development Initiative, PACORDI; Network on Organized Crime in Nigeria and the Gulf of Guinea, NOCINAG; and promotion of modular refineries for artisanal refiners, among other oil theft mitigation mechanisms.
He said, "YEAC-Nigeria is not pleased with the use of fighter jets, bombs and other war explosives by security operatives in the fight against oil theft and artisanal refineries in the Niger Delta, due to the devastating effect of those war approaches, when the Nigeria Security and Civil Defense Corps, Tantita Security Services, Army and other anti-bunkering teams are already deployed and making steady progress.
"Most worrisome about the use of fighter jets to bomb illegal refinery sites is the environmental implications of the crude oil destroyed into the environment and the soot it generates as well of the impact of the action on the ecosystem, aquatic lives and livelihoods of fishermen.
"YEAC-Nigeria condemns this approach and called for restraints while reiterating the call for the use of a combination of the carrot and stick approach to address the menace of pipeline vandalism, oil theft and artisanal refineries in the Niger Delta."