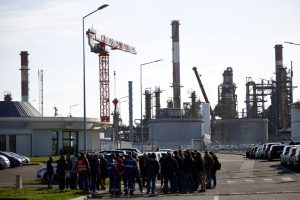 Paris — French oil major TotalEnergies (TTEF.PA) said on Tuesday the shipping of products from its French sites was interrupted due to a strike action launched over the government's pensions reform plans.
An official from the Force Ouvriere trade union earlier said that strikes were under way at TotalEnergies' oil refineries of Donges and Feyzin as well as at the Flandres depot.
France faces its third nationwide strike since the government presented plans last month to raise the pension age by two years to 64, with unions representing energy sector workers, teachers, civil servants and others also taking part.
*Forrest Crellin, Benjamin Mallet, Dominique Vidalon; Editing: Benoit Van Overstraeten – Reuters
Follow us on twitter