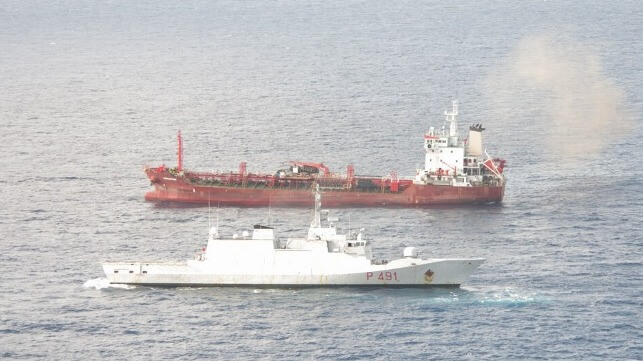 Lagos – A support vessel may have been used to aid the recent successful boarding of a tanker in the Gulf of Guinea by pirates, the EOS Risk Group has revealed.
The pirates boarded the tanker, Success 9, in the Gulf of Guinea on Monday, April 10, less than three weeks after the successful hijacking of another tanker named MT Monjasa Reformer in the area.
The Maritime Domain Awareness for Trade–Gulf of Guinea, MDAT-GoG, information centre reported that the latest incident occurred approximately 300 nautical miles south-southwest of Abidjan, Ivory Coast.
The EOS Risk Group commented that the latest incident suggests it is likely another vessel was used to support the pirates.
"Either a mother ship was used to deploy a skiff, or a secondary tanker is in the vicinity to illegally offload the boarded vessel's cargo. The latter was most recently demonstrated during the double boarding and robbery of MT B. Ocean's cargo in January and November of 2022," a maritime security incident alert sighted by our Correspondent.
EOS Risk Group said the latest boarding incident shows West African pirates' ability to conduct piracy further from shore even as it advised vessels to exercise extreme caution and remain vigilant, maintaining strict anti-piracy watch and measures.
Communication with the Monjasa Reformer was lost after it was attacked by armed pirates 140nm west of the Republic of Congo's Port Pointe-Noire on March 26. The vessel was eventually located four days later approximately 90nm south of Bonny, Nigeria, with six crew members missing.
The number of incidents of maritime piracy and armed robbery reported worldwide fell to its lowest recorded level in almost three decades last year, according to the ICC International Maritime Bureau.
The Gulf of Guinea, in particular, witnessed a reduction in the number of piracy incidents and crew kidnappings, with IMB data revealing 19 reported incidents in 2022, down from 35 the year before.
The recent successful attacks on vessels in the Gulf of Guinea have been attributed to the recent departure of a Danish frigate from the area. The frigate had protected ships, deterred attacks and arrested pirates since 2021 but was pulled back late last year.
The International Maritime Bureau, IMB, has warned that sustained efforts are needed to ensure the continued safety of seafarers in the region, which remains dangerous as proven by the latest incidents.
Follow us on twitter