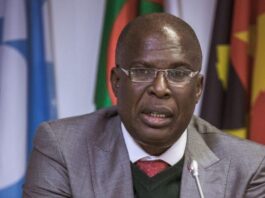 OpeOluwani Akintayo
Lagos — Nigeria's Petroleum Minister, Timipre Sylva has restated that the country's approach towards the climate-change-net-zero-emission debate is to optimise the use of its abundant gas resource domestically as a transition fuel.
The Minister reiterates the country's stand in his address at the Society of Petroleum Engineers SPE's Nigeria Annual International Conference & Exhibition, NAICE holding in Lagos.
According to him, utilising gas towards meeting the country's national needs is its own contribute towards climate change.
"As a Government, we are determined to encourage more penetration of natural gas and its derivatives for domestic utilisation, power generation, gas-based industries and propulsion in all aspects of the national economy. This would in a fundamental manner address the great challenge posed by volatile oil market, the environmental issues and public health concerns", he said.
Regarding the global oil market in the foreseeable years, Sylva said it is becoming obvious that a global migration from a fossil fuel-based economy to renewable would engender a corresponding decline in hydrocarbon, including possible divestiture in the sector as deliberate frameworks are being championed to discourage extraction of carbon-laden resources.
"The COVID-19 Pandemic has further exacerbated the investment decline", he added.
According to him, the Nigeria government in collaboration with global partners is exploring policies, technologies and investments to address the current global challenge that will support migration from the country's reliance on carbon dependent fuels to meeting its commitment to the Paris Agreement.
This year's conference is themed; "the Future of Energy – A Trilogy of Determinants: Climate Change, Public Health and the Global Oil Market".
He argued that although the industry was beset by unprecedented crisis as a result of the COVID-19 pandemic which led to uncertainties and low crude oil price, however, the scenario that energy transition to low carbon energy sources would make the world a better living place with a cleaner climate does not match all economies.
"… I believe so too, likewise the Government of Nigeria.
"However, that this process of change has to happen by way of a simultaneous global effort of transitioning national economies to the use of low carbon energy solutions, is an assumption that all national economies are driven by the same parameters and does not take into account the different socio-economic, political and developmental peculiarities of individual nations", he said.