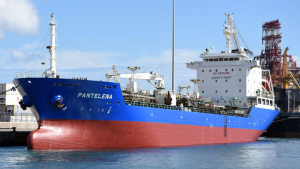 21 August 2018, Libreville -– A tanker is missing off the coast of Gabon, a security source in Gabon said Tuesday, as the Georgian foreign ministry said 17 Georgian sailors were onboard.
The ship "disappeared off the radar screens" on August 14, the source said, while regional military officials said the potential search area was between the Gabonese coast and the Sao Tome and Principe archipelago.
Specialist websites list the 121-metre (396-feet) Panamanian-flagged ship, the Pantelena, as a 7,000-tonne, 12-year-old dual-purpose oil or chemical tanker.
The vessel is Panamanian-flagged and owned by a Greek company, Lotus Shipping Co. Ltd.
The Georgian foreign ministry in Tbilissi, in a statement issued last Friday, said there were concerns for 17 Georgian sailors onboard and a search operation was being conducted with the help of the British maritime authorities.
The Pantelena "turned off its locator beacon," a device that tracks a vessel's position by satellite, a regional military official said.
"The first thing that pirates do when they board a ship is to cut off this beacon."
A crew member aboard a ship sailing between Libreville and Port-Gentil, Gabon's economic hub, told AFP: "We received a distress message over the radio and we alerted the Gabonese navy."
A Gabonese navy official confirmed, "We received an alert… about the Pantelena, but we didn't have enough information to intervene."
In Sao Tome and Principe, which is located about 260 kilometres (160 miles) from Gabon, the commander of the local coastguard, Joao Idalecio, said it had dispatched a patrol vessel with a crew of 30 to search for the tanker.