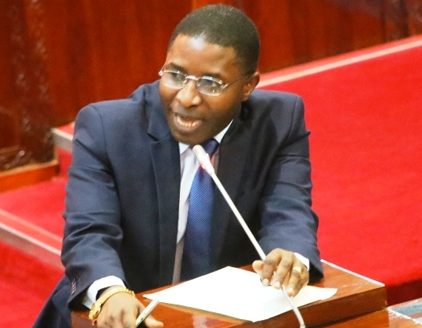 27 May 2018, Dodoma, Tanzania — The government has said it is still holding discussions with investors on the planned Liquefied Natural Gas (LNG) plant even though Members of Parliament (MPs) want a speedy conclusion to the negotiations.
The minister for Energy, Dr Medard Kalemani, told Parliament yesterday that the government had already set aside Sh6 billion, which it was planning to spend on conducting pre-front-end engineering design (pre-FEED) for the Liquefied Natural Gas (LNG) plant as well as compensating people affected by the project during the 2018/19 financial year.
The Liquefied Natural Gas plant is planned for construction in Lindi.
"So far the evaluation of the project and selection of concept on production and transportation of gas from the deep sea to the mainland have been completed."
We are now continuing with discussions on the Host Government Agreement (HGA). The actual project will start after completion of the discussions," said Dr Kalemani during the current session.
However, the Parliamentary Energy and Minerals Committee called on the government to hasten discussions with the investors on the development of the LNG project to secure international markets, which the team said were in the danger of being lost to other countries that have invested in the same sector.
This comes at a time when neighbouring Mozambique is reported to have secured financing for the development of its $20 billion Liquefied Natural Gas project.
International media outlets reported two days ago that Societe Generale, the financial adviser on the $20 billion Mozambique LNG project, had already received interest for a combined $12 billion in cover and direct lending from export credit agencies (ECAs) in China, South Africa, Italy and Japan.
Tanzania has a natural gas resource estimated at 57 trillion cubic feet (tcf) onshore and deep sea. Neighbouring Mozambique is reported to have discovered over 180 trillion cubic feet of natural gas.
International companies like Statoil and Shell are currently in discussions with the government on the development of Tanzania's $30 billion Liquefied Natural Gas.
"The government must fast-track the discussion process with investors," said the committee chairman, Mr Dunstan Kitandula.
He was presenting the team's report on the ministry of Energy's budgetary estimates for the next financial year.
The committee was also dissatisfied with the speed with which authorities were investing in the supply of natural gas for domestic use.
Earlier, Dr Kalemani said that already 70 houses had been connected with natural gas and 1,000 others were expected to be introduced into the system in other areas of Dar es Salaam in the first phase of the project, which was launched recently.
In the next financial year, Tanzania Petroleum Development Corporation will spend Sh20.9 billion to put in place infrastructure that would enable 2,000 other houses to be connected.