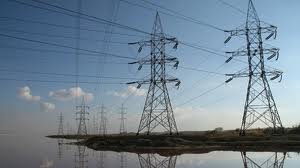 24 April 2014, Abuja – The Transmission Company of Nigeria (TCN) says it has commenced the construction of a transmission bye-pass to temporarily replace the destroyed 132kV transmission line from Tegina to Kotangora, Niger State.
Mr Dave Ifabiyi, TCN Assistant General Manager (Public Affairs), disclosed this  in a statement in Abuja on Monday.
The statement  said the company had  mobilised to the site to construct the transmission line which was destroyed by rain on April 18.
It said that four transmission towers were destroyed as a result of the incident at Corner Mariga after Tegina, Niger state, causing power outage in the area.
It said that sequel to the loss of the four transmission towers;  the company could not transmit electricity power on the 132kV transmission line from Shiroro to Kotangora.
It said that the TCN engineers promptly isolated the defective axis of the 132 kV transmission line from Tegina to Kotangora and re-energised the line from Shiroro to Tegina.
According to the statement, TCN is making concerted efforts to restore supply to Kontangora and Yawuri towns by constructing a bye-pass that would divert power temporary from the fallen towers to Kontagora, Yawuri and environs.
It said 132 poles already in Kotangora  were being moved to the various construction sites along with other materials that would be used for the construction of the temporay transmission line bye-pass.
It explained that the areas initially affected by the incident include Meriga town, Tegina, Birinin Gwari, Kotangora and Yawuri towns.
It said that the quick response of the TCN engineers restored the Shiroro-Tegina 132 kV transmission line on the same day of the incident, causing power supply to be restored to Meriga, Tegina and Birinin Gwari.
– This Day