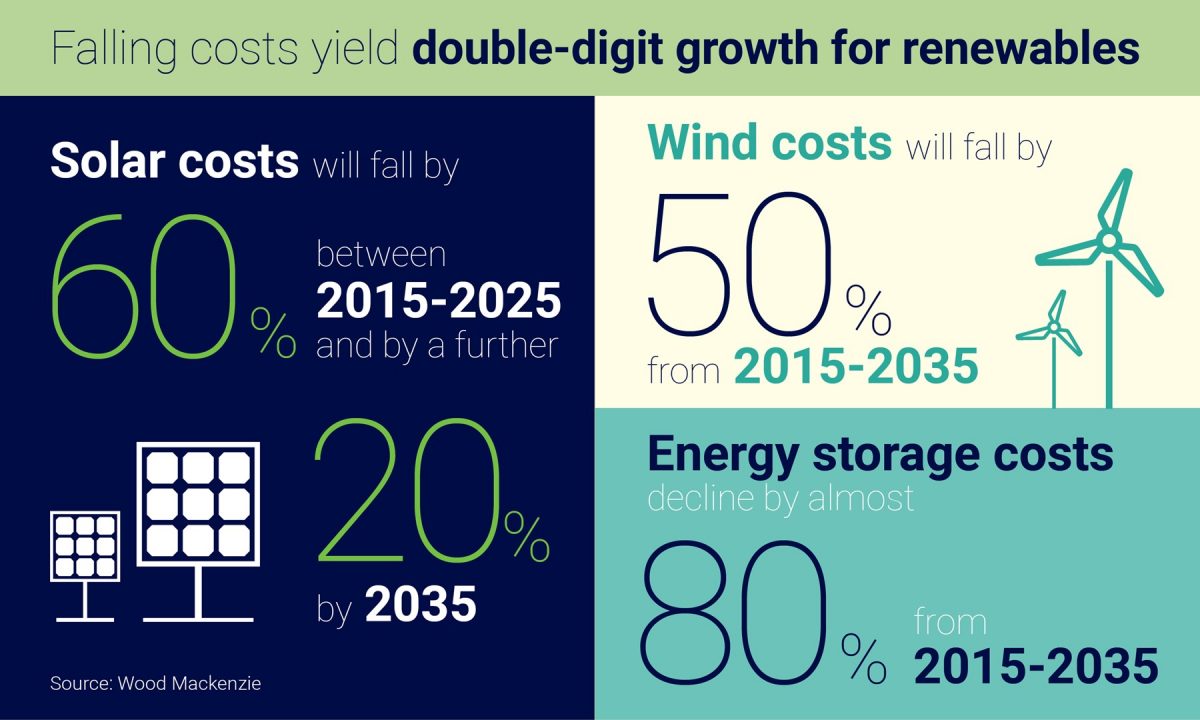 *Threats & opportunities for developing countries
Prof Chijioke Nwaozuzu
29 May 2018, Sweetcrude, Port Harcourt — The evolution of the global energy sector provides opportunities as well as challenges for countries whose economies are largely dependent on fossil fuels revenue.
For most mono-product economies (like Nigeria) budgets are based on revenues from those commodities; and as such, are exposed to price volatility in the international commodity markets.
For decades, fossil fuels have accounted for a larger proportion of global energy supply sources. However, with increasing environmental challenges, arising from increasing concentration of greenhouse gases (GHG) associated with fossil fuel combustion, there has been a renewed emphasis on low carbon intensive and environmentally- friendly energy sources.
Consequently, several technologies are being developed for the production of renewable energy resources as well as natural gas, which are considered low carbon emitting sources. These technologies are also becoming economically competitive when compared with conventional energy sources.
Moreover, major energy consuming economies, which are major markets for petroleum products (China, India, Europe, etc) are realigning their energy policies and economic dynamics in favor of low carbon-intensive sources.
This article provides an insight into the technologically driven changes in the global energy landscape, and the inherent threats and opportunities for developing economies like Nigeria.
 Renewable Energy
As at the end of 2017, global renewable generation capacity amounted to 2,179 GW, of which, hydro energy, with an installed capacity of 1,152 GW, accounted for the largest share; while wind energy (with capacities of 514 GW) and solar energy (capacity of 397 GW) accounted for most of the remainder. Other renewable energy sources include 109 GW of bioenergy, 13 GW of geothermal energy and 500 MW of marine energy (tide, wave, and ocean energy).
Similar to 2016, renewable generation capacity increased by 167 GW (about 8.3%) in 2017. Solar energy, with a capacity increase of 94 GW, accounted for 32%; followed by wind energy with an increase of 47 GW (10%). Hydropower and bio-energy capacities increased by 2% and 5% respectively.
 Solar Energy
Asia has continued its dominance of the global solar capacity expansion, with an increase of about 72 GW. China, India, and Japan with capacities of 53 GW, 9.6 GW, and 7 GW respectively accounted for most of the growth.
In 2017, Asian economies accounted for 64% of new capacity additions, up from 58% in 2016. Europe added 24 GW of new capacity in 2017, followed by North America with 16 GW.
Solar photovoltaic (PV) also grew by more than 30% in 2017, followed by wind energy, which grew by 10%. Presently, the US has been investing heavily in developing advanced high-temperature concentrating solar power (CSP) technologies.
Substantial reduction in the cost of these technologies underpinned the rapid growth achieved in 2017. For instance, the levied cost of solar electricity dropped by more than 70% and that of onshore wind, by a quarter between 2010 and 2017; thus making both technologies competitive with power generation from fossil fuels.
Hydropower
The amount of new hydro capacity commissioned in 2017 was the lowest seen in the last decade. Brazil and China continued to account for most of this expansion (12.4 GW or 60% of all new capacity). Hydro capacity also increased by more than 1 GW in Angola and India.
Wind energy
Globally, wind power generation capacity reached 435 GW at the end of 2015, accounting for about 7% of total electricity generation capacity globally. China, India and the United States are leading producers of wind power. Additionally, European economies have also been involved in wind power development, with Germany recording over 45GW of wind power installed capacity.
In 2017, about three-quarters of new wind energy capacity was installed in five countries: China (15 GW); USA (6 GW); Germany (6 GW); UK (4 GW); and India (4 GW). Brazil and France also installed more than 1 GW.
Electric vehicles (EVs)
There are projections that EVs will account for almost 55% of all new car sales and about 33% of the total fleet. In addition, the cost of EVs is expected to become competitive without subsidy by 2024. Furthermore, with the rapid growth of EVs, it is expected that by 2040, over 7.3million barrels per day of transportation fuel will be displaced.
China is set to become the largest market for EV up to 2040. India is already targeting complete electrification of its vehicular fleet by 2030. European and American markets are also following suit. The affordability and widespread use of electric vehicles are being driven in part by falling battery costs.
The electric car boom could cut projected oil demand from vehicles from almost 25m barrels of oil per day to 15m barrels. The BP chief economist, Spencer Dale argued that a quicker than expected uptake of new, energy-efficient technologies due to government support could spur an even greater shift away from oil use.
Hybrid vehicles
Hybrid vehicles (HVs) are those automobiles that use two or more engines (that is, a conventional engine – either diesel or petrol; and an electric motor). HVs are becoming more popular because of their energy conservation and low carbon emission characteristics.
The environmental friendliness, less fossil fuel consumption, and energy conservation of HVs makes them very attractive. Thus, many governments, especially in Europe, provide incentives to support the purchase and use of HVs in public transportation.
What is critical about the development of EVs and HVs is that, governments in advanced and emerging economies are laying out plans to ban the sale of petrol and diesel powered vehicles. In addition, the price of batteries for these vehicles is falling rapidly, thus making these vehicles more affordable to consumers and more profitable for manufacturers.
Hydrogen energy world
Hydrogen and fuel cells have been recognized as an emerging technology option for transitioning in the long term to a cleaner energy system; with the considerable long-term potential to displace fossil fuels and thus reduce the carbon emissions from the transport sector.
Technologies for producing hydrogen from water and renewable sources are at various stages of development. In this recognition, several countries are already pursuing strategies for achieving hydrogen-based economy.
The EU targets a decarbonized energy system by introducing hydrogen energy in both aviation and road transportation by 2050.
In the US, a coalition of US fuel cell stakeholders recently called for a ten-year US Federal Government programme to implement and deploy hydrogen and fuel cell technologies.
Japan is also aggressively pursuing research and development of hydrogen and fuel cells technologies; with plans to commercialization nearly 50 000 fuel cell vehicles and installation of about 10,000 MW of stationary fuel cell capacity.
There are also growing international partnerships between many countries and incentives to a move to the hydrogen economy. With the development of technologies that can convert hydrogen to electricity for vehicular and stationary applications, the end to the fossil energy age may be imminent.
New Opportunities for oil and gas producing and importing nations
• Mini-LNG
These are small-scale LNG facilities with capacity to process less than 0.2 Mtpa of LNG, equivalent to the annual LNG demand for a 100MW power plant. Globally, there is an increasing demand for Mini-LNG as fuel for the transportation sector. This development is as a result of the rising cost of fossil fuels and environmental concerns. In the nearest future, Mini-LNG could enable the establishment of power plants or industries like fertilizers, food, ceramic, etc. in areas with gas infrastructure deficiency.
• Mini-GTL
There has been a significant improvement in the development of small Gas-To-Liquid (GTL) plants. This push is further complemented by the Zero routine gas flaring initiative made at the COP-21 in Paris. The Mini-GTL technology will be important for meeting the gas flare reduction target. There are various commercial scale Mini-GTL projects at different stages of completion in the US, Middle East and Central Asian countries, which is capable of capturing stranded gas or flared gas at different production well sites.
It is vital to realize that these global developments are going to impact countries, great and small. For most OPEC Member States, it is time for economic structural adjustment and diversification. Diversification should be in forms of a boost to their respective power sectors and invest upstream petroleum profits in downstream industries (mega-refineries, petrochemical and fertilizer plants, LNG & GTL plants, etc). Basically, the aim should be to domesticate their oil and gas resources to drive domestic industrialization and economic growth.
The time to act is now! As I have said in the past, the Stone Age did not cease for lack of stones; the world moved away from firewood to coal as a source of energy, not because of shortage of coal; also there was a global move from coal to oil, and gas utilization later came into the equation because of environmental concerns. Today, we have a variant form of oil and gas from shale formations. These transitions occur and wishful thinking cannot stop it. Someday, current developments may usher in a hydrogen-powered world! It was not raining yet when Noah built his Ark!!!
*Prof Chijioke Nwaozuzu, Former British Chevening Scholar, Former PTDF PhD Scholar, and Deputy-Director at Emerald Energy Institute for Energy & Petroleum Economics, Policy, & Strategic Studies, University of Port Harcourt. Email: [email protected] Tel: 070 6874 3617 (SMS Only)